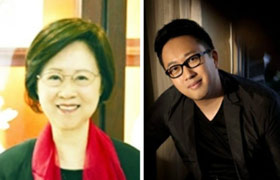 Chiung Yao (L) and Yu Zheng. [Photo/Agencies]
Taiwan novelist and screenwriter Chiung Yao claims historical television series Palace 3: The Lost Daughter, written and produced by screenwriter Yu Zheng from Chinese mainland, plagiarizes one of her works, and has demanded provincial TV station Hunan Television pull it off-air.
She provided evidence of copyright infringement in a letter to China's State Administration of Press, Publication, Radio, Film and Television, the top regulator of China's TV and film industry.
The authorities have yet responded to Chiung's requests.