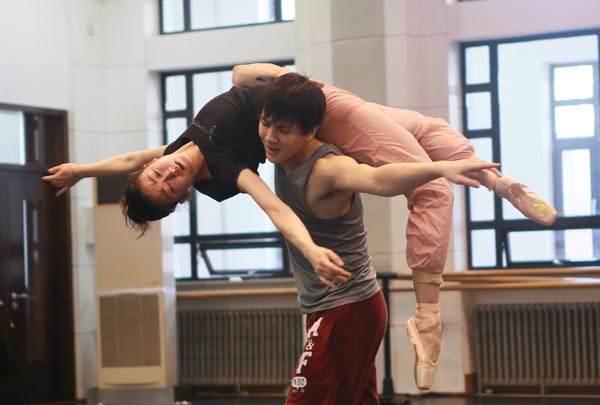 In this year's workshop of the National Ballet of China, three young choreographers have turned to the written word for inspiration. Provided to China Daily
Shakespeare's Hamlet, foot-binding in feudal society and a doll maker from a Chinese fairy tale will all be interpreted in dances by three young choreographers from the National Ballet of China during its annual workshop.
Launched in 2010 by NBC, the workshop has a different theme every year, which aims to inspire and nurture China's young dancers and choreographers. This year, the theme is open, but the three young choreographers - Fei Bo, Zhang Zhenxin and Wang Sizheng - have all chosen to interpret works of literature. Fei and Zhang have decided to pay tribute to the classics.
"I lose myself in whatever dance I am choreographing," says Fei, who describes his Hamlet ballet as a clash of emotions and cultures.
"When I chose Hamlet, I gave myself a big challenge. Which part should I focus on? How to keep the balance between the original story and my own creation? I had to ask myself many questions, which was terrifying."
The dancer-choreographer from Anhui province, who is in his early 30s, has participated in many international ballet productions, such as Raise the Red Lantern directed by Zhang Yimou for the NBC and The Peony Pavilion.
In taking on Hamlet, Fei chose to reveal the complex state of Hamlet's mind, emotions and attitude toward himself.
"By interpreting Hamlet, I trained myself how to tell a dramatic story full of human emotions, through ballet," Fei says. "The process is torturous. Like Hamlet, I faced various contradictions."