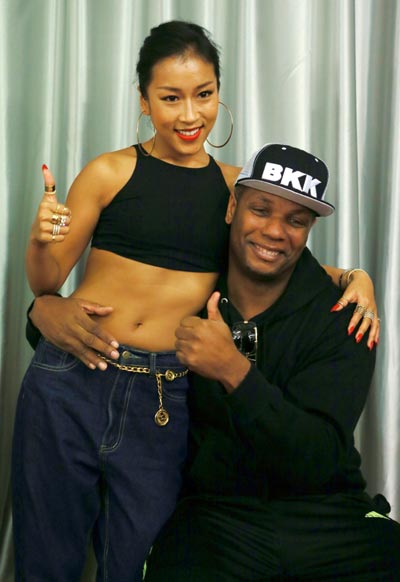 Chinese singer Jike Junyi rehearses with American choreographer Free "Boogie" Crawford in Beijing. Photo by Zou Hong / For China Daily

In a dance rehearsal studio hidden in

Beijing'

s Sanlitun embassy area, young girls in sneakers stand in front of mirrors and move their bodies to the music of Chinese singer Jike Junyi, a rising star from

China'

s popular singing reality show, The Voice of China, in 2012.
The space is full of humidity and the beat of the music. When the sound of US soul musician James Brown's I Feel Goodcomes up, the 25-year-old Jike Junyi walks along the lines of dancers on each side, and sings along in fluent English.
Wearing blue jeans and pink high heels, she flaunts her tanned skin confidently and shakes to the music.
She performed the same song — one of her most famous — on the reality show because she combines it with a folk song from the Yi ethnic group of Sichuan province, where she came from.
Free "Boogie" Crawford, the American choreographer, stands in front of her and moves to the music while interacting with her. When the song is finished, he gushes: "Amazing!"
Last year, Crawford cooperated with Jike Junyi's first English single Summer Time, which she performed with UShip-hop legend Snoop Dogg. "I was impressed by her personality and passion," says the choreographer, who has worked with stars such as Justin Bieber, Omarion and Marques Houston.
When he was invited to choreograph all the dancing for Jike Junyi's first concert tour, which will start on March23 inBeijing, Crawford accepted without hesitation.
"It's my first time working with a Chinese singer, and I was surprised," he says. "I thought her music type was just hip-hop, like Summer Time. I didn't expect the variety when I got all her songs for the concert."
They started rehearsals two weeks ago, and the good chemistry was instant.
"She learns fast and she's got the natural talent of a singer," said Crawford, who won his first Best Choreographer award at Hollywood's Krump Awards in 2007. His work was nominated for a Grammy in 2007 for Best Music Video, and for Best Choreographed Dance Video alongside Roland Tabor at the 2011 World of Dance Awards.
Jike Junyi admits that she was worried before the rehearsal since it's her first concert. There will be 7,000 inthe audience in Beijing and more around the country. But after a few days of working together, she is pretty sure about it.
"I have liked singing and dancing since childhood, and as a professional singer I enjoy the moments onstage. I believe my concert will fully display every aspect of me, especially the dancing part and the clothes," she said. 
According to her agent, veteran Chinese singer-songwriters Yang Kun, Liu Huan and Sha Baoliang will show up at Jike Junyi's concert in Beijing as guest performers.