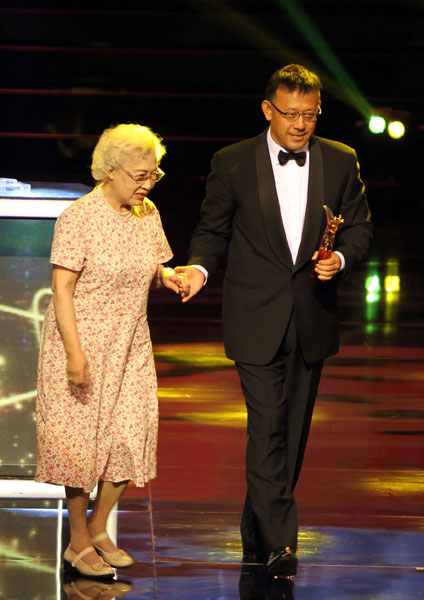 Veteran film artist Qin Yi (left) honors Jiang Wen with the Outstanding Contribution to Chinese Film Award at the opening of the 17th Shanghai International Film Festival. [Photo by Liu Ying/ Xinhua]
At a forum of the 17th Shanghai International Film Festival, Jiang Wen managed to steal the show by making an unannounced, last-minute appearance.
It was literally "last-minute" as he popped onstage during the last 10 minutes of the event.
The maverick filmmaker has been upstaging the whole film industry. In China, he is widely considered a pure genius who is simply unable to turn out uninteresting works. His upcoming release, Gone With the Bullets, is whetting cinephile appetite with every tidbit of gossip. But instead of promoting his own film, he announced at the SIFF forum that he will help produce five to 10 films for emerging directors.
Jiang even joked about his support for LuChuan, whose directorial debut The Missing Gun was produced by, and stars, Jiang. "Lu said I gave him a hard time, but who would turn down this kind of treatment if someone got you money and filled your starring role?"
Jiang credits German director Volker Schlondorff for launching his own directorial career. "He didn't even want the producer credit," Jiang says. This year, the maker of TimDrumhas a new film, Diplomacy, about a German military officer's refusal to carry out Hitler's orders to blowup Paris, that is in competition for the Golden Goblet Award. SIFF organizers are excited that filmmakers of that caliber are participating in their festival.
But then, this is the Shanghai event's 17th incarnation, and it has built a sizeable fan base and become a launching pad for young filmmakers, especially those from across Asia. Its Asian New Talent Award, a parallel competition, attracts some of the brightest filmmakers emerging from Asia's vibrant filmmaking scene.