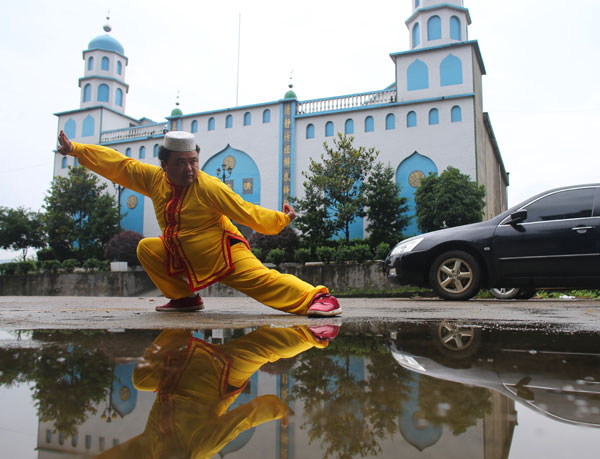 Li Shengjun, 38, practices traditional Hui martial arts in front of the mosque in Zhabu, a township in Central China's Hunan province, where Hui Muslims have lived with Han people in harmony for hundreds of years. Wang Jing / China Daily
A spiritual journey
By Yang Yang
Huang Jianxing, 52, has vivid memories of the day he returned to Taojiang county from Saudi Arabia, where he had taken part in one of Islam's most important sacred duties, the Hajj, or pilgrimage, to Mecca, the birthplace of the prophet Muhammad.
"I am one of very few people in Taojiang to have been on the Hajj, and the local Muslims were so excited that they organized a welcome-home party of 50 cars driving around the downtown," he said, excitedly.
"Nobody asked them to do it, they just came. They even made banners and printed my name on them. The government approved the event and even arranged for the traffic police to lead the procession," he said.
Huang left Taojiang in Yiyang city, Hunan province, for Mecca at the end of November 2007 and returned on Jan 2, 2008. Before the trip he flew from Changsha, the capital of Hunan, to Beijing, to attend a training day organized by the Islamic Association of China. The association provided travellers with relevant facts about customs and etiquette in Saudi Arabia, the geography of Mecca, and also the mandatory vaccinations they would need as a safeguard against illness.
There are about 28 million Chinese Muslims, and last year 18,000 of them undertook the Hajj through trips organized by the association. This year, many more will travel to Islam's holiest city from five airports in China, including Beijing, Zhengzhou and Kunming.
"I think it's essential for the association to organize the pilgrimage because there are many unforeseen problems, such as people being cheated because of language problems. And the government is helping us to improve the organization of the trip every year," Li Saijun, chairman of the Islamic Association of Taojiang County, said.
All able-bodied Muslims are expected to undertake the Hajj at least once, but circumstances mean some will never make the trip. "Yes, of course, there are some conditions - to protect yourself and your family, you cannot be old. You have to be healthy, and you must be wealthy enough that you can leave sufficient money for your family," Li said.
As a well-regarded local entrepreneur, Huang could easily afford to pay more than 30,000 yuan ($4,824), which covered his round trip and other expenses. At the end of Huang's pilgrimage, King Abdullah of Saudi Arabia sent each of the pilgrims a gift of 20 kilograms of water. "I took the water from the holy city to the mosque in Taojiang, and about 200 people immediately lined up to taste it. They were so happy," Huang said.
Muslims keep their traditions and mingle with neighbors, report Yang Yang and Feng Zhiwei in Taojiang, Hunan province.
Several days of rain had dispelled the mugginess that's usually so typical of Hunan province in summer. Swallows glided swiftly across the low, leaden sky and small plots of land planted with rice nestled between the two-story tiled houses in Zhabu in Taojiang county.
Insects chirped tirelessly in the surrounding shrub-covered hills, and every so often, cars, trucks and motorbikes roared down the concrete road that winds through the village. Generally, though, everything is quiet until the late afternoon, when children walk briskly home after school in groups of two or three.
Apart from a sign at a fork in the road in nearby Nanjingwan village that points the way to the mosque in Zhabu, there are few indications that the area is home to a large number of people from the Hui ethnic group. Sometimes, facial features help one to identify people's ethnicity, but it's not always immediately apparent.
Zhabu is one of six Hui centers in central China's Hunan. About 44 percent of the town's 180,000 population are members of the ethnic group. According to local legend, the first Hui family - called Li, originally from Beijing - settled in the area in 1477, during the Ming Dynasty (1368-1644). Later, another Li family arrived from Nanjing in Jiangsu province, and other Hui people called Huang, Liu and Ma also moved to the area and gradually formed a community.
More than 500 years have passed since the first Hui moved to the area, but their faith and ethnic cohesion have seen the people weather the ups and downs of Chinese history over the centuries since their arrival in Hunan.
Martial arts and Arabic
Every summer, the imams at the mosque organize Arabic classes for local children. Although Arabic is the Huis' traditional tongue, it's rarely used in daily life, except during Salah, prayers undertaken five times a day, weddings, or funerals. In addition to learning Arabic, the children also practice Hui martial arts, which have been included in a list of Yiyang's intangible culture heritage.
When the drizzle stopped temporarily, four men wearing yellow satin costumes performed one maneuver each. Despite their slightly protruding bellies, the men's movements were fluid and powerful.
"In the past, the Hui practiced martial arts to protect ourselves, but now we do it for the good of our health," said Li Saijun, chairman of the Taojiang's Islamic Association.
One of the performers, Li Shengjun, 38, started learning traditional Hui martial arts at the age of seven, taught by masters from the villages around the mosque. "At the time, I didn't like school, and I frequently skipped it to study martial arts. It's odd that I fought a lot with other kids, and even became a problem child, but now practicing martial arts is seen as being good for our health," he said, with a chuckle.
In the early 1990s, martial arts became hugely popular in China after a raft of movies and television shows featured masters of various disciples. As a result, clubs sprang up in towns and cities around the country.
When Li Shengjun was 18, he started his first club, in Taojiang's downtown area. In the years that followed, he regularly recruited 200 students, aged between 4 and 15, every year. They came from both the Hui and Han groups.
"Traditionally, we don't usually teach our skills to non-Hui people or to women, but in my club, I broke the rule. Fifty percent of my students are Han, and there are about 12 girls, some of whom are pretty good," he said. "The Han students know I'm a Muslim and respect my beliefs. If their parents invite me to dinner, they know that there are certain foods I'm forbidden to eat."
In the mid-1990s, when the passion for martial arts began to cool, business slowed. The slowdown was exacerbated by the 1997 Asian financial crisis. People had no money to spare for non-essentials such as martial arts, and by 1999, Li Shengjun had just five students.
His club was in the downtown area and his home was in a village more than 70 kilometers away, so one day, when he had to return home, he realized that he didn't have a penny to his name, so he walked the entire distance. "I got up at 6 am and arrived at home at midnight," he said.
The street where he started out was once home to more than 10 clubs, but by 1999 the masters had all sold up and moved into more lucrative lines of business, leaving Li Shengjun's club as the only one in existence.
"I love martial arts, and I have some talent. I don't want to do anything else, so I have persevered. I have devoted my whole life to my club, which is now the most influential in Taojiang. The martial arts are a very good thing," he said.
In May 2013, he led the first Hui martial arts team from Hunan to compete in a tournament in Taiwan. The team, the only one in the competition from an ethnic group, won seven gold medals, three silver and three bronze. It also took first place at the East Asia Martial Arts Competition in Beijing, by winning seven first-grade awards.
At this year's competition, held in May in Guilin in the Guangxi Zhuang autonomous region, the team beat its own record by winning eight events. Li Shengjun has won more than 20 gold medals in various competitions in recent years. "Later this year, we will become the first team from Hunan to compete in the World Martial Arts Tournament," he said, standing in front of the blue-and-white-tiled mosque.
On a rain-drenched morning, Huang Hui, 25, drove to the mosque from his home in Changde, several kilometers away, to attend Friday prayers, the most important religious activity of the week. The mosque's grand hall, where Salah is usually held, was having new ceilings fitted, so the meeting was moved to a smaller room.