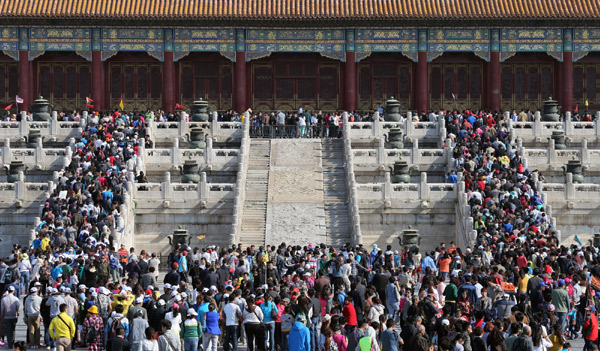 The Palace Museum is a must-see for tourists to Beijing. Pang Zhengzheng / Xinhua
The Palace Museum is looking for ways to accommodate the overwhelming number of visitors who pour through its doors every year.
New proposals include half-price tickets after 2 pm.
"We would like to encourage visitors to avoid the peak time in the morning and switch to the afternoon, so they can have more comfortable touring experiences," said the museum's director Shan Jixiang.
The Palace Museum will try out the new pricing from Sept 14 to 16.
Annual tickets are also in the works, which allow visitors to enter the museum 10 times a year. Chinese students and seniors are eligible for half-price discounts.
"That will benefit those who love ancient palace construction or the abundant collections and need to visit multiple times," Shan said.
The museum received 15.3 million visitors in 2012, with about 182,000 on its busiest day. It averages 70,000 visitors a day during summer and 20,000 in winter.
"It's necessary to balance the number of visitors between peak and low seasons," Shan said.
The museum will offer free tickets on the first Wednesday of the month from November to April 2015 for groups of up to 200 people.
"We considered providing free tickets for the general public on these days, but after serious evaluation, we decided to take slower steps by beginning with certain groups of people," Shan said.
The first groups will include teachers, voluntary workers, medical practitioners, soldiers and college students.
wangkaihao@chinadaily.com