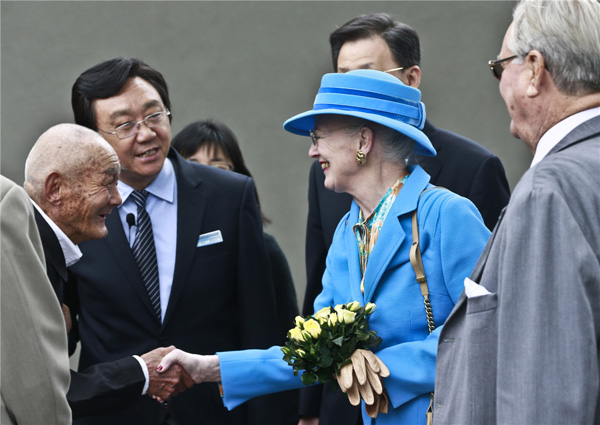 Queen Margrethe II of Denmark shakes hands with a survivor of the Nanjing massacre during her visit to the Memorial Hall of the Victims in Nanjing Massacre by Japanese Invaders, in Nanjing, capital of east China's Jiangsu province, April 27. [Feng Yongbin/China Daily]
Click for more photos
NANJING - Queen of Denmark Margrethe II on Sunday paid respect to thousands of Chinese victims of the Nanjing Massacre in Nanjing, capital of east China's Jiangsu Province.
The Queen and her husband Prince Consort Henrik arrived at the Memorial Hall for the Victims of the Nanjing Massacre on Sunday morning, which commemorates more than 300,000 Chinese lives killed by Japanese invaders since they occupied the city on Dec. 13, 1937.
The Queen looked at photographs on the wall depicting Bernhard Arp Sindberg, a Dane who helped save up to 20,000 Chinese lives during the massacre of 1937-38.
"Sindberg was a witness of the Nanjing Massacre and one of the foreign friends who protected Chinese refugees in Nanjing," Zhu Chengshan, curator of the memorial hall, told the Queen.
The hall recorded the darkest history of the city. History cannot be changed but lessons can be learned, the Queen said when arriving in Nanjing on Saturday.
The commemoration of Sindberg is to look back at the past as well as looking to the future, the Queen said.
Sindberg came to China at the age of 26 seeking adventure, and eventually found a job as a watchman at the Jiangnan Cement Factory, run by a Danish firm. His arrival coincided with the Japanese invasion in December 1937, making him a witness to brutality perpetrated against unarmed soldiers and civilians.
In 107 days during the bitter winter of 1937 and 1938, along with a German colleague Karl Gunther, Sindberg established a make-shift camp for Chinese civilians inside the cement plant, ran a small field-hospital for the wounded and tried to provide food and other supplies to the refugees.
A yellow Danish rose was named the Nanjing Forever -- Sindberg Rose by Sindberg's hometown, Aarhus Municipality, in remembrance of the events in 2004. The Danish Embassy in Beijing later gave the roses as gifts to the memorial hall.
The Queen stopped to appreciate the yellow roses at the Peace Square of the memorial hall, where she met a living survivor of the massacre Su Guobao.
"I was only 10 when the massacre took place. My family and I, among other Chinese refugees, lived in the camp Sindberg established," 87-year-old Su told the Queen.
The whole family survived on money and rice from Sindberg, Su said. "My heart is filled with gratitude. Thanks to Sindberg and Denmark."
The occasion also was a chance for Sindberg's niece Marianne Stenvig Andersen, who was among Danish delegates to visit China, to renew friendship with the old man.
The Queen and her husband added some soil to a tree symbolizing peace at the square, and watered it.
The queen is paying a state visit to China from Thursday to Monday at the invitation of Chinese President Xi Jinping.