Bias and old habits still refuse to go while hardware improves, female college students increase
Women's numbers may have sharply increased on university campuses and in graduate schools in recent years, but they are yet to become a force when it comes to higher studies in science and large government-sponsored research projects.
While their growing base number as science students does help, they still have to overcome the 2,000-year-old social bias against women and make smart choices for themselves and their families.
The winning solution for women still seems to be in "getting either a good husband or a good assistant", says Li Peng, a woman professor at the School of Life Sciences of Tsinghua University, one of the country's top universities for science and technology. And since that is not covered by government grants or the 13th Five-Year Plan (2016-20), the change has to be brought about by women themselves.
The number of women applying for higher science and technology courses has been continuously increasing since the early years of reform and opening-up. In fact, more women than men have been enrolled in general colleges since 2009, according to Ceiea.com, an information website affiliated to Ministry of Education.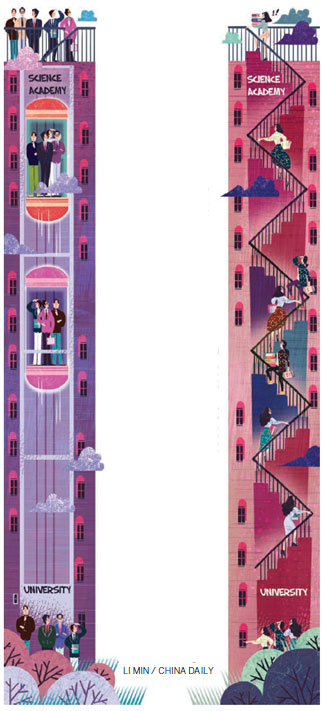 The dominant numbers of female students expanded from language and arts colleges to business administration and theoretical science schools, and then to engineering and technology majors, or what were referred to as the "monks' community" until the beginning of this century.
In 2015, women made up 40 percent of the undergraduate students in Guangzhou-based South China University of Technology.
"Science is a world where you achieve your goal through wisdom, or by setting your mind free, and that's a kind of charm you don't experience elsewhere," says Li, the Cornell-trained biology professor.
According to a white paper on gender equality, published by the State Council, or China's Cabinet, in 2014 women made up 52.1 percent of the undergraduate students, 51.6 percent of the post-graduate students, and 36.9 percent of the PhD candidates in institutions of higher learning.
And figures from China Association for Science and Technology show that by the end of 2013, women accounted for nearly 39 percent of the 70 million or so "scientific and technological workers" in the country.
At the Shanghai Engineering Center for Microsatellites, one-fourth of the research staff in Jin Feng's department are women. Jin, a specialist in electromagnetic and microwave technologies, says that not many years ago, the department lacked even the basic necessities for women to take up research projects.
"Back in the 1970s and 1980s, traveling with a male colleague could be a difficult proposition. Some places did not even have a lavatory for women," Jin said. That, fortunately, is no longer the case.
While the material conditions and facilities can improve fast, ideas and habits don't, Jin laments. "Some people believe women aren't suited for science because they tend to be emotional, oblivious of the fact that women can be particularly strong in details."
Going by international standards, however, China does not occupy a leading position in tapping the talent of potential woman scientists. A report published by the Academy of Science of South Africa in October 2015 - arguably the first comprehensive global survey of science academies and gender relations - women account for only 12 percent of the total members in 69 national science academies; their proportion was as low as 6 percent in mathematics and 5 percent in engineering.
The national science academies of South American and African countries have the highest percentage of woman members, ranging from 19 percent to 27 percent. European countries and the United States rank in the middle with 10 percent or more woman members.
Despite having a large number of female college students and research workers, China is in the lower range in the survey, with a mere 6 percent of its top-level researchers being women.
Wang Zhizhen, a biophysicist and member of the prestigious Chinese Academy of Sciences, argues that such a situation prevails not because women are less competent or intellectually less qualified, but because they "tend to be affected more easily by social and cultural factors".
In contrast to female students comprising the majority in colleges, Wang says, women account for only 8 to 10 percent of all professors and are leading only 5 percent of the national research projects.
It is still difficult, it seems, for China's woman scientists to find both an understanding husband and a supportive environment in the workplace.
chengyingqi@chinadaily.com.cn