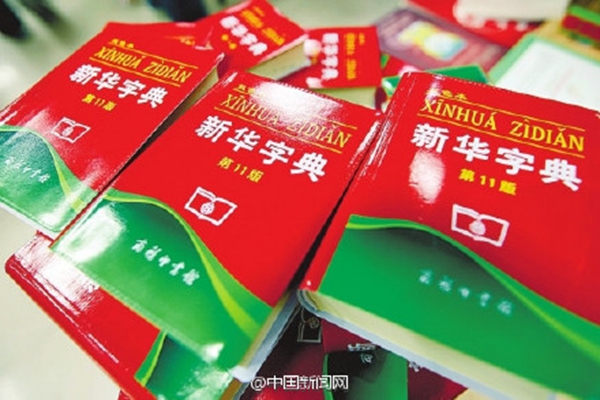 Xinhua Dictionary. [Photo/Sina Weibo]
LONDON - Guinness World Records Tuesday confirmed here that Xinhua Dictionary published by China's The Commercial Press is the "most popular dictionary" and the "best-selling book (regularly updated)."
As of July 28, 2015 (last updated date), Xinhua Dictionary, the first modern Chinese dictionary since the foundation of the People's Republic of China on Oct. 1, 1949, has sold 567 million copies globally, Guinness World Records announced at the presentation ceremony in London.
"Over the past year, our teams have completed extensive data investigation, collection and examination for these two records and we are delighted to verify that Xinhua Dictionary is the most popular dictionary and the best-selling regularly updated book," said Marco Frigatti, SVP Records at Guinness World Records.
"China Publishing Group has many time-honored member publishing houses and comprehensively recognized publications, among which The Commercial Press and Xinhua Dictionary are typical examples. The 'Most popular dictionary' and 'Best-selling book (regularly updated)' record titles themselves are the epitome of Sino-Foreign cultural exchange, showing the increasing international influence of Chinese language from a micro level," said Tan Yue, President of China Publishing Group.
Yu Dianli, President of The Commercial Press, said the two Guinness World Records titles would bring more opportunities for cooperation between globally famous cultural institutes and the press.
Dubbed the "National Dictionary," Xinhua Dictionary has been a useful tool for several generations of Chinese people. Some internet users share their memories:
"Every Chinese primary student has a copy", said a Sina Weibo user named Suxiaoqi.
Expressing his gratitude, another user, Wanglei0629, said: "It's a part of my childhood memory. It taught me how to read."
Sina Weibo user Shushangdeyingtaoyaoweixiao said: "When I review my Xinhua Dictionary, it is filled with a child's innocence and happiness in the form of my handwriting. I will keep it forever."
Some internet users took a humorous dig at the sales numbers. Netizen Lazhu_wakengtiankeng said the figure was underreported. "[The sales figure of 567 million copies] must have been a mistake. I myself have five copies of different editions."