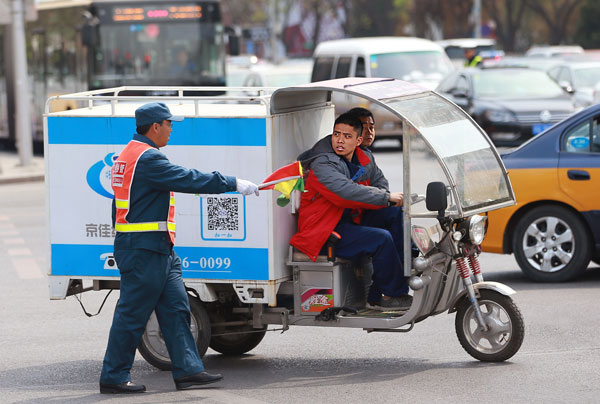 A traffic warden intercepts an electric tricycle in Beijing on April 11, 2016. The capital imposed a ban that bars electric bikes and tricycles from 10 roads, including Chang'an Avenue and some of its connecting roads. Drivers will be fined 20 yuan ($3.10) for using the roads, and their vehicles will be seized if they refuse to pay the fine. [Photo by Zou Hong/China Daily]
Massive increase of electric tricycles 'threatens road safety, worsens urban traffic'
Traffic authorities in Shenzhen, Guangdong province, will specify measures for the use of electric tricycles by express services, following the drafting of national technical requirements for the vehicles, according to a local officer.
"Electric tricycles for express delivery services can be used on designated roads at specified times if they meet the national technical requirements," said Xu Wei, head of the Shenzhen traffic police.
The State Post Bureau published a draft of the national electric tricycle requirements on Monday for public review.
The draft specifies that delivery tricycles can be no more than 1 meter wide, 3 meters long and 1.4 meters high, with a maximum payload of 180 kilograms, excluding the driver.
The maximum speed is 15 km/h. Tricycles used for delivery services should have a sign in front reading "express", according to the draft.
The country's booming e-commerce has led to a rapid expansion in the express delivery industry nationwide, especially in big cities such as Beijing, Shanghai and Shenzhen.
However, the massive growth of electric tricycles - especially ones that are unlicensed or have substandard technologies - threatens road safety and worsens urban traffic, according to the draft.
Shenzhen was put in the spotlight recently after local traffic authorities launched a campaign to crack down on illegal electric bikes and tricycles.
During the campaign, which ended on April 5, some 18,000 unlicensed or illegal electric bikes and freight tricycles were confiscated, with only 60 belonging to delivery workers, according to the traffic police authority.
"The action mainly targeted illegal electric bikes that ferried passengers, rather than the express delivery industry," said Xu.
According to Xu, local police will add 5,000 tricycles to the existing quota of 13,000 registered electric bikes and freight tricycles for express delivery use.
Additionally, the local authority will introduce a mobile management system in late April in which a QR code listing delivery contents will be installed on electric tricycles.