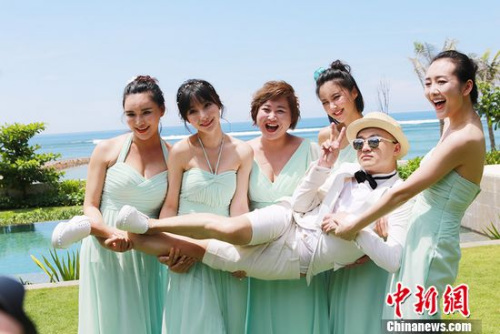 Bao Bei'er and the bridesmaids. [Photo/chinanews.com]
With the duties of bridesmaids expanding, and in many cases bordering on vulgarity, many women are simply opting out and in their place females who don't mind carrying out the different tasks are stepping in, reported chinanews.com on Tuesday.
China has a long tradition of horseplay on the newlyweds on wedding night to spice up the atmosphere.
But in recent years, the target has expanded to the bridesmaids and in some cases to best men, too.
Bridesmaids' job went from accompanying the bride to gradually being asked to light cigarettes and feed fruits to guest to having physical contact with guests and even being asked to take off their clothes in front of everyone in some rare cases.
Sometimes a happy celebration turns into a headache due to the games played on bridesmaids.
The addition of games and accompanying humiliation has scared away the real bridesmaids who usually used to be the friends and relatives of the bride.
And that is where females who don't have qualms about vulgarity are stepping in to earn extra money.
In Hengshui, North China's Hebei province, a new trend is emerging where brides are hiring women from wedding management companies to play the role of bridesmaids instead of asking their friends or relatives.
Those young women are college students or in some cases even escorts and prostitutes.
According to a local wedding planner, the market price for one bridesmaid ranges from 300 yuan ($48) to 1,000 yuan.
A wedding dresser said many women see bridesmaid as a part-time job.
Liu, a local resident in Hengshui, said in many local weddings guests will be told beforehand if the bridesmaids are professional. If they are, the guests will play harder.
"Sometimes the games are too crazy, even hired bridesmaids feel hurt. They sometimes leave without even taking the money, or asked for double price after the wedding," Liu said.
Some reported bridesmaids' stories:
1.
Liu Fei (her name changed on her request), a woman from Hengshui, Hebei province, who had her wedding in the beginning of 2016, has a vivid memory of what her bridesmaids went through.
According to her, a group of male guests grabbed the legs and arms of two of her bridesmaids and threw the women on the bed in the bride's chamber. Then they came up with the idea to throw the bridesmaids on the best man.
Both bridesmaids were startled and scared by the incident.
She witnessed another game in another wedding that left her "shocked".
Bunch of people dragged the bridesmaids into a bedroom and intended to rip off their gowns. "Fortunately they didn't do it as the bridesmaids weren't married," said Liu.
But that was not the end.
Liu said after some basic games with bridesmaids, someone brought a pack of raw eggs, took one and stuffed into the woman's strapless gown down her chest and smashed it in the gown.