Users of instant-messaging platforms are becoming increasingly annoyed by frequent messages canvassing online support for children in competitions, as Tang Yue reports.
In China, there are usually two reasons people receive messages from friends and relatives from whom they haven't heard for a while.
The first revolves around New Year greetings, which are always welcome. The second reason is often less palatable, however; people are increasingly contacting long-lost friends, or even casual acquaintances, and urging them to cast online votes for their children or grandchildren in competitions.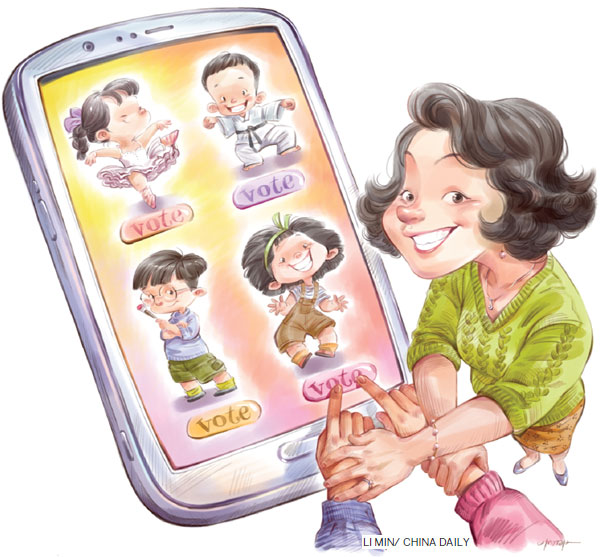 The practice, which has been growing rapidly, has now reached the point where people are becoming jaded, frustrated and annoyed. In short, they are sick and tired of voting.
The results of a recent survey conducted by the Jinhua Evening News in East China's Zhejiang province show that 94 percent of 384 respondents had been asked by friends or relatives to cast votes online for their children.
The contests range from the "cutest baby" to dancing competitions, but in many cases the people receiving the messages haven't heard from the sender for a long time and have never met the child involved.
'Canvassing parents'
Li Liang is what is known as a "canvassing parent". Two weeks before Spring Festival, or Chinese New Year, which fell on Feb 8, Li's wife entered their 4-year-old daughter in a "New Year's Kid" contest for children age 14 or younger in Dalian, a city in the northeastern province of Liaoning.
Like most of these contests, the child's ranking was based entirely on the number of online votes they received. As a reward, photos of the top 10 children were printed in the Dalian Evening News on Chinese New Year's Day.
Li, who also has a 1-year-old son, was too shy to bother his friends by messaging them individually. Instead, he posted a message on the homepage of his public account on WeChat, a popular instant-messaging and social-networking platform.
"To be honest, I don't like this kind of activity. The organizers are taking advantage of the parents' love for their children for commercial purposes. But still, I hope you can spend a minute checking the photo of my daughter and voting for her," Li wrote, when he posted the link to the voting site.
To vote, people usually have to first subscribe to the organizer's public WeChat account, which quickly results in a flood of unsolicited messages and ads.
In the case of Li's daughter, nicknamed "Little Pomegranate", the competition involved two rounds.
The preliminary round was sponsored by a children's art school, while the final was sponsored by a company that provides consultations and services for parents.
Thanks to the efforts of Li and his wife, Little Pomegranate attracted 266 votes in the first round and was ranked 13th. After the preliminary round, her grandparents joined the canvassing team in a bid to ensure that she made the top 10 in the final.
"They contacted almost every single person they've ever known, all over China, and asked them to vote for their granddaughter," said Li, who works for a shipping company.
The girl eventually received 1,268 votes, well beyond Li's expectations, but her ranking remained the same as during the first round so Little Pomegranate's photo wasn't printed in the newspaper, much to her disappointment.