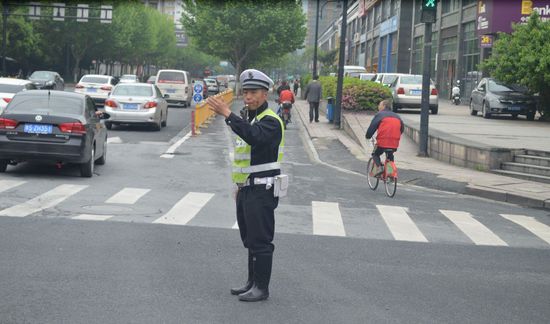 Li Weiqi on duty. [Photo from web]
A traffic policeman prevented a disastrous accident thanks to his experience, winning praise from the world after a surveillance video was broadcasted by CNN, reported zjol.com.cn on Tuesday.
Li Weiqi, the traffic police on duty on April 21, was patrolling at a big busy intersection in Hangzhou, Zhejiang province.
At some point, he noticed there was something weird about the road as minor cracks showed even though most people would have ignored it.
Li didn't miss the signal of danger. He started to ease the traffic and directed passing cars to bypass the questionable road surface.
It was not an easy job as the crossing was quite busy. Soon, he brought some road cones from nearby and blocked the area. His colleagues came and helped him to surround the area to warn the passing vehicles to stay away from it.
It was only four minutes from the time Li noticed the problem and set up all the cones. Then, a two-meter-deep sinkhole appeared. Thanks to the police's foresight, nobody was hurt.
CNN has uploaded the video to its official Facebook account and received over 3.6 million clicks and about 20,000 reposts so far.
It was flooded with praise for the policeman.
@Brandie Wilburn comments "Somebody give that man a beer and a raise!"
@Chris Teo said "Do give that traffic cop a medal, promotion and raise...he did risk his dear life and has a family to go home too like everyone else."
@Irene Shaw said "Wow! That's so scary. But his vision was spot on. Can you imagine if the cop wasn't there to notice what was about to happen. He saved so many people that day from sinking in that hole."
Li Weiqi, the traffic police who noticed the signs, said he never met this situation before but he knew it might be something wrong and needed to be cautious when he saw the cracks, according to zjol.com.
He said there was a breath-stopping moment when a driver tried to go over the problematic area but he did his best to stop the vehicle.
The driver was impatient and asked him if he violated any regulation. Just at that moment, the road collapsed just in front of them.
"He kept saying thank you for saving my life," Li said, "I told him it's not a big deal. This is my job."