World largest sinkhole geopark in Leye and Fengshan
By Li Yang (chinadaily.com.cn)
2014-11-10
Leye-Fengshan World Geopark is enlisted in the United Nations Educational, Scientific and Cultural Organization's world geopark directory in 2010.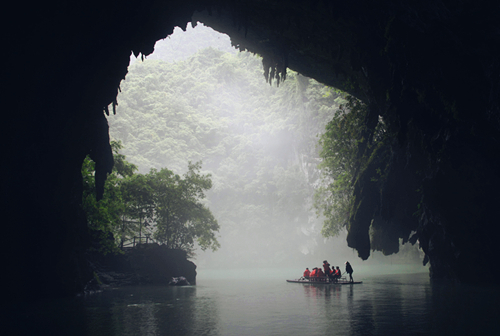 The beautiful scenery of the Leye-Fengshan World Geopark [Photo by Huo Yan]
The geopark is made up of Dashiwei sinkhole cluster geopark in Leye county and karst geopark in Fengshan county in the west of the Guangxi Zhuang autonomous region. The geopark has the largest sinkhole cluster in the world, and covers an area of 930 square kilometers. There are two underground stream systems in the park.
The karst mountains, carved by waters for about 70 million years, form countless caves, skylights, natural bridges and underground tunnels, many of which remain unknown till now. Many unique living creatures still live in the geopark, much of which remain untraversed. Geologists found the oldest skull fossils of the giant panda in the park.
Several ethnic minorities living in the area still maintain their traditional lifestyle and cultures. Close to the geopark are two regions renowned for their residents' longevity, thanks to local strong terrestrial magnetic field, the magnetized water and soil, fresh air and organic food.
The two counties attracted nearly 1 billion yuan ($17 million) investment in the past two years to build tourism infrastructures in the geopark to promote sightseeing, outdoor sport and health-maintenance living programs. Although the two countries are only accessible through winding mountain road, the geopark attracts about 1 million visitors a year.
The main sightseeing spots that have been already developed scatter along an underground stream, which connects dozens of sinkholes. Visitors can take bamboo raft poled by Local peasants to sail upstream along the Panyang River all the way to its origin under the mountains. The raft sails in dark caves, which are decorated with stalactites dripping from the ceiling of the caves. Some sections of the waterway are so narrow. The people have to bow to pass through.