Designer draws inspiration from empress dowager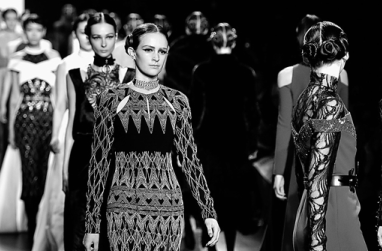 Models display a fall/winter collection by Bibhu Mohapatra at New York Fashion Week.[Photo by Wang Lei/ Xinhua]
Indian-born designer Bibhu Mohapatra, who has dressed Michelle Obama and Gwyneth Paltrow, unveiled a stunning fall/winter collection in New York inspired by one of the most important women in Chinese history.
Mohapatra, who has been a fixture at New York Fashion Week since 2009, was inspired by empress dowager Cixi, the former concubine turned 19th century regent who was a powerful figure in China for nearly 50 years.
British-Indian author Salman Rushdie, one of the greatest living writers in the English language, was guest of honor and posed for a series of selfies with Mohapatra and female guests backstage.
Mohapatra says the collection celebrates "the prowess and poise of the mysterious female mind", and was greeted by ecstatic applause when he appeared on the runway at the end of the show.
The designer, who dressed the first lady when she and Barack Obama made a landmark visit to India in 2015, says he would "love" to dress Hillary Clinton, campaigning to become America's first woman president.
Dragonflies were leitmotif of the collection, fashioned into double-wrap leather belts, made into leather chokers and picked out in embroidery and sequins on evening dresses and coats.
"Dragonflies really have a lot of cultural meaning to everything," Mohapatra says. "They're prophetic in a lot of instances, it's about good crop, good weather and it's meaningful."
As a child, he used to try to catch them but his mother would warn him to be careful.
"They're very delicate, so I love them. I wanted to incorporate them," he says.
Daywear was a lean silhouette with high necklines and long skirts. Evening wear was sumptuous - the overall effect princess meets Bollywood meets Star Wars with regal trains.
There were strapless ballgowns, figure-hugging sheaths and black velveteen that fell in soft folds. Grecian-style dresses in silk chiffon billowed in white and green, and his final gown was strapless ivory and ebony with a thick gold train.
There was lavish use of imperial red, pagoda embroidery, embroidered dragonfly and a chocolate chinchilla coat with alligator waist detail.
Mohapatra grew up in Orissa, in eastern India and moved to the United States in 1996. After getting a masters in economics from Utah State University he studied at New York's Fashion Institute of Technology.
He launched his eponymous collection in New York in 2009 and his clothes sell across the United States, Europe, Russia and the Middle East.