Follow your own rules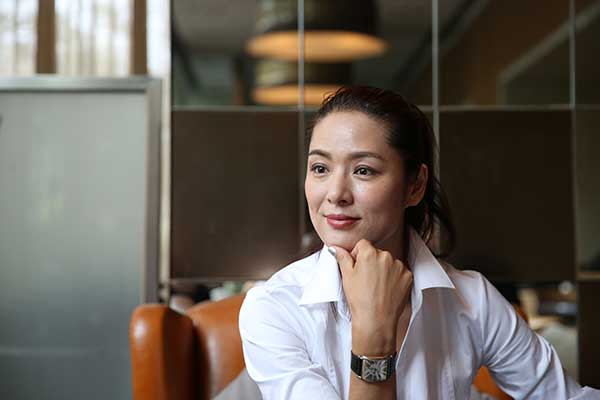 Former supermodel Ma Yanli will launch her new clothing range that combines the simple look of a white blouse with blue jeans.[Photo by Wang Zhuangfei/China Daily]
Ma says fashion in China is now beginning to reflect the "new normal" of slower growth and the general economic climate, and she expects black and gray to be a feature of what people wear this summer in Beijing, Shanghai and elsewhere.
"I think white, black and gray, are likely to be popular this summer instead of the more vivid orange, pink, yellow and red that have dominated in the past several years.
"What people wear is influenced and also reflects the status of a society. After years of fast-paced development, people now need something simple, peaceful, but also high quality. They want calm colors, which can cool you down."
Ma was brought up in Zhoukou city in Central China's Henan province. She is the daughter of a middle school head teacher, although most of her wider family is into farming.
She was on course to be a national rowing champion but injured her back badly in a boat accident.
Then, by chance, while out shopping in Shanghai, she was spotted by a modeling agent looking for talent.
After being entered in the Shanghai International Modeling Competition in 1995, she went on to become China's first supermodel and had a successful career, resulting in her being the face of many advertising campaigns in China.
She then combined this with an acting career, featuring in the TV comedy drama Marriage Battle and the 2010 movie Love in Cosmo, where she played a fashion magazine editor based on Cosmopolitan editor Anna Wintour.
She was recently approached about reviving her acting career with a role in a movie based on the Chinese reality TV show Metamorphosis, where children from wealthy backgrounds swap homes with those in poorer areas and vice versa.
"I am not a professional actress, but I like to takes roles in movies because they let me experience different people's lives," she says.
"It is just like my life. I have experienced so many things-from being brought up in an ordinary family and being a supermodel to being a TV actress, the founder and CEO of a company and a mother."
Ma, who is divorced, lives with her 12-year-old daughter, Lang Ma Qin Ge, who attends the primary school attached to the Central Conservatory of Music in Beijing.
"She (my daughter) is already nearly as tall as me," says Ma, who stands 1.78m tall.
"She wants to be a professional classical concert pianist."
Ma, whose clients have included football star David Beckham and musician Quincy Jones, says the Chinese fashion industry has made huge strides in the past two decades.
"It has changed dramatically.
"When I started out, the Chinese didn't even know what fashion was. They took anything as beautiful as fashionable.
"Now Chinese fashion is so diverse, with a different understanding of what it is at every level of society."
Related:
Video: Model Mary Ma on colors
What color to wear this summer