Love of leaf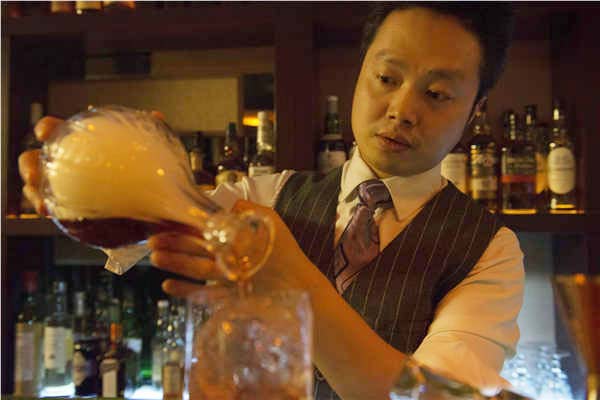 Frankie Zou uses herbal bitters-and occasionally smoke-to give cocktail drinkers a distinctive experience. Photos by Bruno Maestrini/Provided to China Daily
Botany is more than a name at one of Beijing's sleekest new bars-it's an embrace of plants that can make magic in a cocktail glass, Mike Peters discovers between fragrant sips.
Frankie Zou is pouring one of his housemade vermouths, this one infused with chamomile, into a gleaming crystal glass.
"That gives the drink a floral character," he says as he reaches next for egg whites, then cognac, then freshly cooked pineapple juice, and finally a lemon juice-syrup blend to produce a sweet-sour finish.
He froths the carefully measured ingredients with a hand blender, to make the mixture airy and creamy, then pours it into a cocktail shaker and rhythmically pumps it up and down.
A patron at the counter murmurs: "I thought that was only done in the movies." Zou grins wickedly.
"I only do it when James Bond is coming to the bar," he says.
Zou's showmanship at Botany goes far beyond the shake-rattle-and-roll of bartenders in film, but his style is far too sleek for gimmicks like flipping peanuts into customers' mouths.
Instead he uses things like smoke-to add a touch of wonder to his creations but also to add flavor. His "tricks", in short, have to be relevant, enhancing the customers' appreciation of what they are drinking.