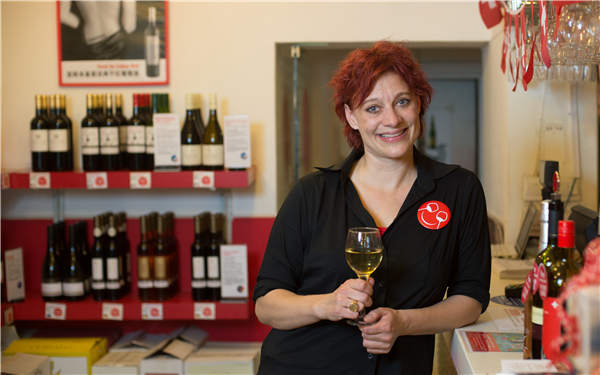 Claudia Masueger, CEO of Cheers wine shop chain. Photos Provided to China Daily
The horror of seeing her business go up in flames fueled a Swiss businesswoman's desire to put wine within reach of the masses
Claudia Masueger's great grandmother started the family wine business the hard way, driving a horse-drawn carriage over rugged Swiss mountain passes into Italy. There she bought barrels of wine then hauled them back to Switzerland, running the business even as she raised her two children.
One hundred and ten years later, in 2008, Claudia Masueger made a trip with very different logistical challenges. Instead of heading south like her great grandmother, she boarded an aircraft with two suitcases full of wine and headed east.
Unlike her widowed great grand-mother, who is likely to have known whom she would be buying her wines from, Masueger says she had had no idea when that aircraft eventually reached China about whom she would be selling her wines to.
Instead she traveled the length and breadth of the country finding out how the wine business worked, stopping people on streets to get them to sample her wine. She then set up a company called MQ Wines, a wholesaler.
That may have been the easy part, for a little more than two years after she arrived in the country, in November 2010, disaster struck when MQ Wines' warehouse burned to the ground.
"As I stood with my driver Mr Li watching the fire, I saw tears in his eyes,"Masueger says.
"I consoled him, saying, 'Don't worry. Cheer up. We'll find a way through this.'
"But Li stopped me saying, 'No, no, no. These are not tears of sorrow; they are tears of joy.' He explained that in Chinese culture a fire portends very good fortune."