'Beijing girl' embraces romance of Bordeaux, wine culture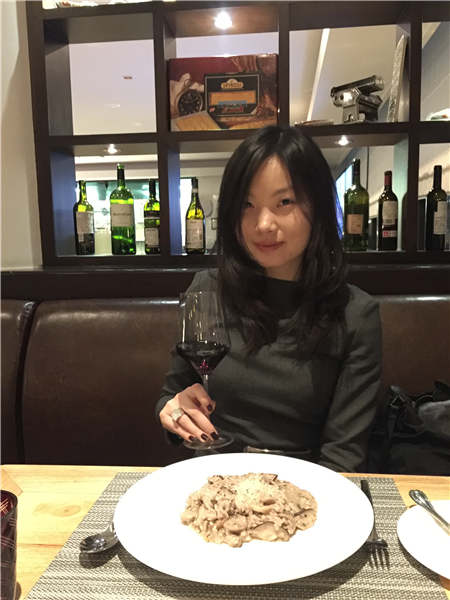 Beijing native Feng Wei coauthors the recently published book Bordeaux, a guide to pair Chinese food with French wines. Photos provided to China Daily
A few years ago, Feng Wei was 24 and had a good job with an international high-tech firm in China's capital. But suddenly one day, she felt something was missing.
"I looked at what I was doing and suddenly felt I was at the end of my life," she says. "I thought, this is what I will be doing 10 years from now, and 10 years after that, and 10 years after that."
Determined to make a change that would allow her to grow, she started looking at business schools abroad, not sure what she wanted to do. She hit upon Bordeaux in France, but not because she wanted to get into the wine industry.
"Everybody was doing that," she says, laughing. "I wasn't that interested, but I liked the look and the lifestyle I sensed was there. So I went to Bordeaux and studied architecture."
But wine beckoned.
"I found that I spent most of my time designing booths for wine expos," she says. "So I saw a lot of the wine culture-vineyards, wineries, sales and marketing. I realized that wine was not just a drink. It was charming and part of the French lifestyle."
She liked that people could meet over wine socially, or simply savor it by themselves at home. In Beijing, it hadn't been easy or natural to seek out such quiet moments to enjoy life.
"One thing Chinese and French people have very much in common is the pleasure of the table, and the sense of sharing food," she says. "The French know how to enjoy wines in that experience, which adds something romantic."
Now smitten herself, she saw an opportunity.
"I am Chinese-100 percent Beijing girl," says Feng, now 30. "I saw Chinese becoming more interested in wine, and since I was a Chinese but Bordeaux was my second home, I thought I could help people connect with that lifestyle experience."