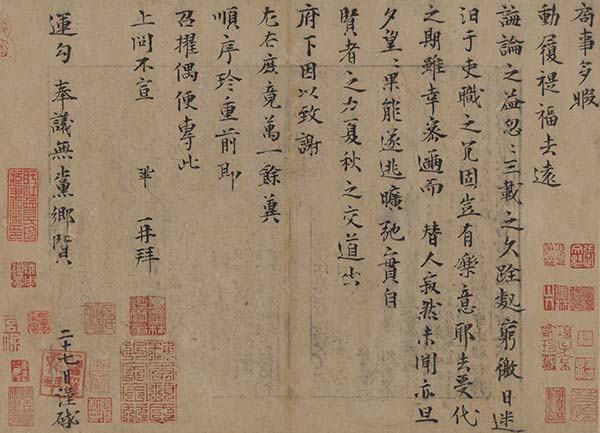 Highlights of the upcoming auctions in Beijing include Song Dynasty (960-1279) politician Zeng Gong's Jushi Tie. Photos provided to China Daily
Ancient scholar's prized letter set to attract stratospheric bids at an upcoming Beijing auction. Lin Qi reports.
A letter that a famed scholar wrote about 1,000 years ago will be auctioned in Beijing on Sunday. The letter, which has 124 characters, is expected to yield hundreds of thousands of yuan, giving it a very high value on a per-character basis.
On Sept 27, 1080, Zeng Gong wrote to a close friend whom he hadn't seen in three years.
Zeng, a Song Dynasty (960-1127) politician and literati, had been assigned to different local administrations over a 12-year period.
The letter declares the 61-year-old's gratitude for his friend's longtime support. Zeng also expresses anxiety about not being able to serve in the royal court and fully implement his ideas about governance.
Less than a month after the letter was posted, Zeng was called to the royal capital of Kaifeng, in today's Henan province, where Emperor Shenzong promoted him to an imperial post.
Zeng is regarded by later scholars as one of the "eight masters of prose of the Tang (AD 618-907) and Song dynasties", a designation that also includes his contemporaries, Ouyang Xiu and Wang Anshi.