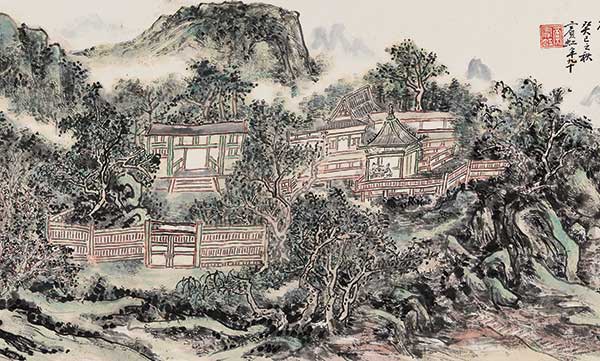 Highlights of the upcoming auctions in Beijing include an ink painting by modern master Huang Binhong.
Jushi Tie exemplifies Zeng's elegant and neat penmanship. The letter is sought after by collectors, since few of his writings survive.
The letter is important to understanding the official's life because it expresses deep personal feelings, says Yin Guanghua a Beijing-based painter and connoisseur of Chinese painting.
The few lines convey his disappointment with how high-ranking officials were running the country and his deep sorrow about lacking the opportunity to realize his political ideas. Indeed, Zeng's vision for reforms diverged from chancellor Wang Anshi's.
Yin says the letter also shows that, although Zeng had earned a good reputation as a local administrator, he felt a need-as a responsible statesman and intellectual-to change the country. Zeng died three years after he wrote the letter.
The letter boasts a sound provenance that is proven by the seals of several important collectors it bears. Among them there were Xiang Yuanbian, a Ming Dynasty (1368-1644) collector of books and letters; An Yizhou, a perceptive Qing Dynasty (1644-1911) connoisseur of cultural artifacts; and Zhang Congyu, a modern master of appraising Chinese paintings.
China Guardian will auction 44 other Chinese paintings and calligraphy pieces dating to the Qing Dynasty and earlier in one of its two Grand View night sales. The sales, which also see the auctioning of modern Chinese paintings, often generate high prices.