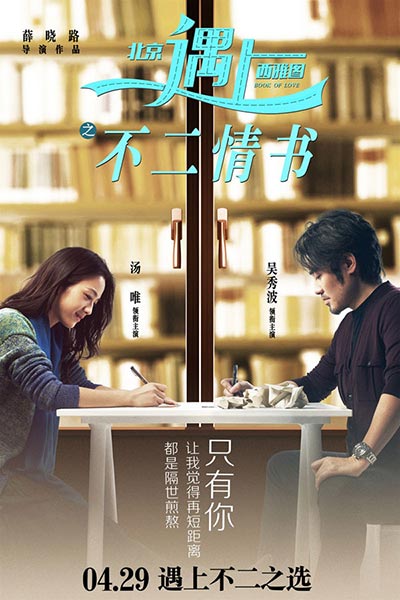 Poster of Book of Love. [Photo/Mtime]
Romance-comedy
Book of Love
is leading the Chinese box office through the May Day holiday, taking in some 300 million yuan ($46 million) so far.
Book of Love has also set a new record for a rom-com by taking in more than 100 million yuan each single day in the past three days.
Despite the name, the latest film is not a follow-up to the 2013 box office hit Finding Mr. Right. Instead, this one revolves around the relationship between a public relations staffer at a casino in Macao and a realtor based in Los Angeles.
Original cast members Wu Xiubo and Tang Wei still play the lead roles.
Meanwhile, Disney's live-action animation The Jungle Book currently sits 2nd at the Chinese box office.
The Jungle Book so far collected 830 million yuan ($128 million) after 17 days in theaters in China.
The Jungle Book is still dominating the North American box office. It's expected to take in $38 million this weekend, after winning the past two weekends as well.
Related: