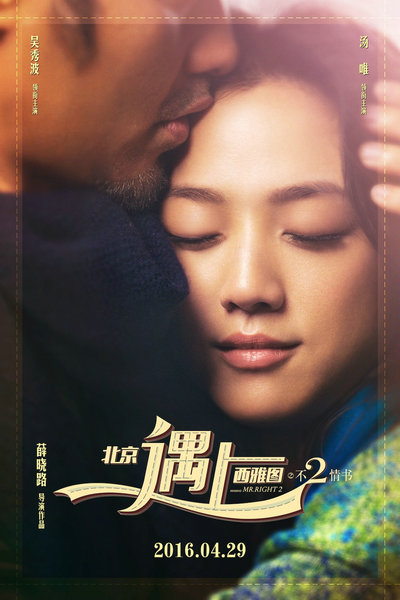 Poster of the film Book of Love [Photo/Mtime]
Chinese film market witnessed a slower growth in ticket sales during the May Day public holiday, falling below expectation for the first time since last year's rapid development.
According to a report by Mtime, the biggest film booking and review website in the country, the national ticket sales for the three-day holiday totaled 660 million yuan ($102 million), a much slower growth of 3.37 percent year on year, a sharp contrast with the collection generated last year - 72.38 percent. The first two days of box office sales were lower than the previous year, making many believe that the slowdown in the film industry might have begun.
However, industry experts said that it is normal to have ups and downs in the market. Shen Wangshu, deputy director of Cultural Research Center of Beijing Academy of Social Sciences, said the box office performance has much to do with the quality of the movies.
"Lack of good films and the diversity of public entertainment channels have led to the fall in numbers," Shen said.
Four new films hit the big screen during the holiday and all of them are domestically produced - Book of Love, Xuan Zang, Miss Partners, and Phantom of the Theatre.
Book of Love, a sequel of the 2013 film Finding Mr. Right starring actress Tang Wei and actor Wu Xiubo, became the biggest box office winner, taking over half of the overall ticket sales nationwide with 334 million yuan ($51.6 million). Yet, the public review of this romance movie is not as impressive as its financial success, with many claiming the story-telling is problematic and unnatural.
As for Miss Partners, which follows three women's life stories and their effort to create a company, has been widely criticized for its out-of-touch plots; and the historical film Xuan Zang and the horror movie Phantom of the Theatre both faced difficulties to create big sale numbers, restricted by either its niche audience or its particular genre.
Some analysts also said that the lower-than-expected box office performance could partially be a result of the ticket fraud scandal that hit several films, such as Monster Hunt (2015) and Ip Man 3. After severe penalties and tougher regulation were announced, the new box office number looks more realistic.
For more Showbiz Insiders, click here