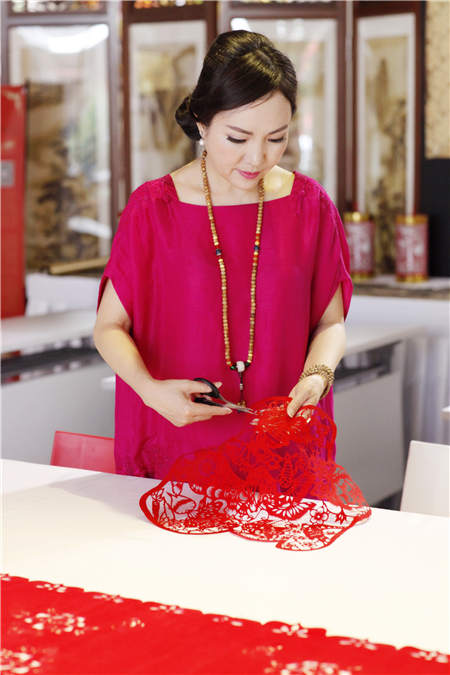 He Hong gives a paper-cutting demonstration at her workshop. Provided to China Daily
Perhaps, Shenzhen in Guangdong province is the best reflection of Chinese urbanization in the past decades.
Now one of China's key economic hubs, the city, which was countryside more than 30 years ago, is often seen as lacking in rich history as it is seen as an immigrants' city.
So, when the 12th China International Cultural Industries Fair was held there from May 12 to 16, it was a pleasant surprise to see its intangible cultural heritage on show.
For instance, He Hong, 50, brought her paper cutouts to the fair.
The woman, who hails from Ji'an, in Jiangxi province - but now lives in Shenzhen - learned to make paper cutouts in her teens.
She established Hoho Culture & Art in 2015 to promote this traditional art form.
Chinese paper cutouts were recognized by UNESCO as an Intangible Cultural Heritage in 2010, and there are many sub-genres in the country.
Speaking of her work, she says: "You have to use creativity and a sense of modern design to preserve traditions, even with materials used," referring to a portrayal of Marilyn Monroe in her studio, which was cut from layers of xuanzhi, a rice paper typically used for calligraphy and Chinese paintings.
Revealing how she keeps this intangible cultural heritage alive even as others struggle, she says her recipe is simple: What is produced need to be put in supermarkets rather than in museums.
Describing her creations, where she explores multiple ways to use paper cutouts in daily life, like indoor decorations, she says: "The items carry the spirit of Chinese paper cutouts, and represent Chinese philosophy and aspirations. This cannot be changed, no matter what."
He, who has 200 apprentices working for her, says new ideas have kept coming through the years.
For example, she now uses specially processed paper, which can be used to transfer designs to porcelain pieces.
When the paper cutouts are burned at high temperatures, the designs get transferred onto the ceramic piece.
Meanwhile, given Shen-zhen's metropolitan character, it should come as no surprise that fading traditional crafts are being resurrected using modern industrial methods.