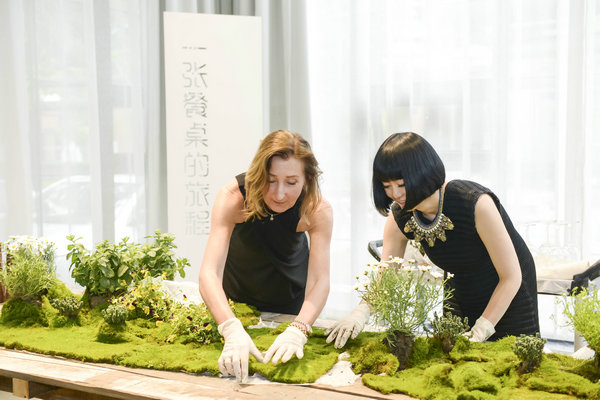 Catharina Lindeberg-Bernhardsson and Zeng Yanbing set a table at a joint show [Photo provided to China Daily]
For Catharina Lindeberg-Bernhardsson, a table setting isn't just about placing a vase of flowers on a dining table. Everything found in nature can be turned into an embellishment-from colorful cabbages and boxes of seed potatoes to a bed of moss.
The Swedish designer brings her imaginative table settings to Beijing, where the concept is still new, with the launch on Monday of the Chinese edition of her second book Seasonal Table Settings: 21 Designs Inspired by Nature.
"A nice table setting can make people happy. Fruits, vegetables and plants used to decorate a table can also help start conversations between diners," says the 62-year-old.
"You can ask someone to pick up the rosemary near him on the table for you and then start a conversation or talk to people about new designs, such as how an artichoke is used to put a name card on it," she adds.
Lindeberg-Bernhardsson began to use fruits, vegetables, plants and everything at hand to embellish her dining table instead of expensive vases and tablecloth a decade ago, which she says changed the Swedish idea that setting a dining table was expensive.
Zeng Yanbing, another such designer from Beijing, who translated Lindeberg-Bernhardsson's book into Chinese, says: "She widened my imagination and inspired me to use things from nature freely."
Explaining how she got involved with Lindeberg-Bernhardsson, Zeng says she originally planned to write a book on table settings in 2014. So, she started reading books written by Western authors on the subject.
Many of the books she read featured designs using only luxurious porcelains, silver plates and expensive tablecloth, which she thought was not practical in daily life.
Then she got a copy of Lindeberg-Bernhardsson's book, which showed her that setting a table can be fun. She then began to communicate with Lindeberg-Bernhardsson and wrote her first book on the subject.
Inspired by Lindeberg-Bernhardsson, Zeng now cuts bamboo into small pieces and uses them as vases. She also uses her scarves as tablecloth.
"Everything in daily life can be used to decorate dining tables. Stones, fruits, leaves, beans and walnuts. It's just a matter of imagination and creativity, " says Zeng, 42.
Zeng and Lindeberg-Bernhardsson are holding a joint show on table setting at Beijing's Gallery All that opened on Monday. The show has seven table designs, with one done jointly by the Chinese and Swedish designers on the spot.
"It's like West and East meeting on a table although we have so many differences," says Lindeberg-Bernhardsson, whose style is distinctly Nordic. She says a lot of her inspiration comes from southern Sweden where she lives. She says she often walks in the forests and rides a bike through the fields.