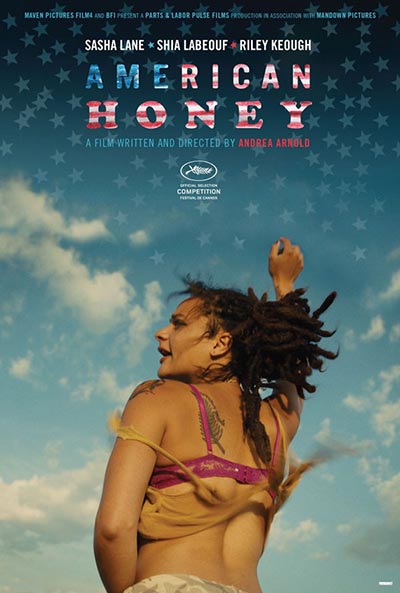 Poster of American Honey. [Photo/Mtime.com]
British director Andrea Arnold's road movie
American Honey
has premiered at the Cannes Film Festival to mixed reviews.
The film tells the story of a teenage girl who joins a magazine sales crew and get caught up in a whirlwind of hard partying, law breaking and young love.
The film starring Shia LaBeouf alongside newcomer Sasha Lane has been selected to compete for this year's Palme d'Or.
LaBeouf is earning some of the best reviews of his career for his immersive performance in the film. The actor said he did do a lot of research for the part.
"I found a little group and just went up the Pacific coast for a week. We'd get off, talk to them throughout. But nothing like what we built here and it was two different families. I saw the hierarchies of the group. How the money comes in and how the money goes out. Who handles what. What a pitch sounds like. How long they need to be, just the technicalities of doing this gig. What the manager does. What's for sale, all that."
LaBeouf added that he was already familiar with the underclass portrayed in the film, coming from a deprived and at times desperate background.
Another film vying for the top prize is US filmmaker Jeff Nicholas's Loving.
The movie tells the story of Richard and Mildred Loving, a Virginia couple who battled all the way to the Supreme Court in 1967 to win their right to live as a white husband and an African-American wife.
Though the film was based on the social struggles in the 1960s, the issues still hold true today for other social groups.
However, Nicholas said he wanted to keep the focus on the love story at hand.
"I did not want to make a court room drama. I wanted to make a movie about two people in love. Fortunately, Richard and Mildred provided the most perfect vision of that story. I truly believe this is one of the most pure love stories in American history."
The movie, inspired by the HBO documentary The Loving Story, has prompted early Oscar buzz after a press preview.
This year's Cannes Film Festival runs until May 22.
Related:
Actress Ni Ni dazzles in Cannes
Seminar on China-Europe film co-production held during Cannes Film Festival