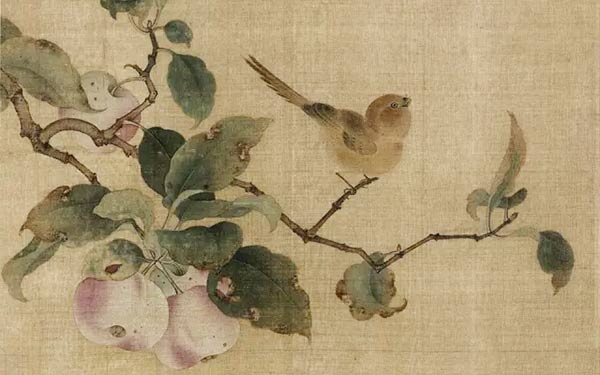 A screenshot of the short film Beautiful Forest. The film is based on many Song Dynasty paintings. [Photo/Wechat account of shuhuating]
A Chinese cartoon movie Beautiful Forest has made it to the preliminary stage in the Best Animated Short Film category of the 2017 Academy Award.
The short film has no lyrics and uses ancient instruments to create the background music that runs throughout the movie. Composed of gongbi-style Chinese paintings, which usually depict birds and flowers - symbols of beauty and joy - in an artistic manner with intense colors, the film brings these paintings alive.
The first half of the movie shows birds perching and preying on other animals and in the last half a gun is pointed at a bird and then a gunshot is heard. The movie ends with the screen showing a hole in a gongbi painting.
Some of the famous ancient Chinese paintings referenced in the film include Golden Pheasant and Peony by Emperor Huizong (1082-1135) of Song Dynasty (1127-1279), and Bird and Perch by Lin Chun.
Director Yang Chun, who is also the scriptwriter and painter, said that in an effort to revive these ancient paintings, each move, including twisting of head and spreading of wings, needed to be done by freehand sketching. In the end, Yang painted tens of thousands of paintings for the film. Apart from that, the color modulation was also quite complicated, and had to spend hours just to get the right tone on a leaf.
The film has been screened in an art cinema in Los Angeles and will contend for the Oscar's Best Animated Short Film in January next year.
To watch the film: Beautiful Forest