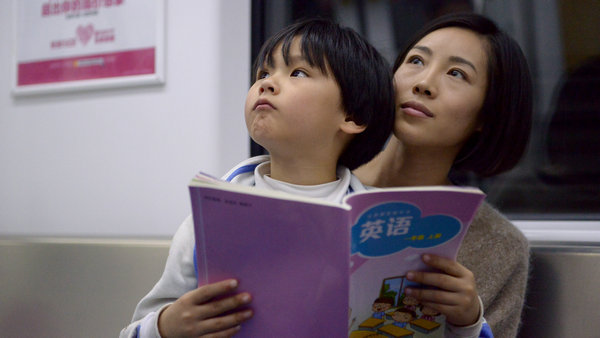 A still from The Destiny, directed by Zhang Wei, which portrays conflicts in the lives of an autistic child and his mother.[Photo provided to China Daily]
Zhang Wei again courts controversy with his latest film about how the world treats an autistic child. Chen Mengwei speaks with the director about his motivation.
Two years ago, Zhang Wei made his name by directing The Factory Boss, a plot based on true stories that tells of the rise and fall of made-in-China products through the perspective of a sweatshop owner. Two years later, the director has again grabbed media attention by turning his camera toward autistic children with The Destiny.
"I use 100 minutes to foretell the whole life of a 9-year-old autistic child. I'm exploring a destiny inherited from genes. I'm also trying hard to show the life struggles of a mother facing desperation," the 51-year-old says, while sitting up in bed in his signature red T-shirt and plaid pajama shorts in his room at the Ambassador Palace Hotel in Udine, Italy.
This new film earned him an invitation to the 18th Far East Film Festival in the city for a premiere on April 29.
The main character, Xi He, is an autistic boy born in a blue-collar family. His mother, the heroine, works at a bank, while his father fixes air conditioners.
Xi sometimes loses control in class. He even bites others and urinates on the floor.
His classmates' parents protest and have their children boycott classes, forcing the school to expel him.
Zhang depicts Xi's mother shouldering pressure from all sides and begging to send Xi back to a normal school.
The storyline is simple. But the portrayal of an autistic child's family and school life is striking. It's like watching a documentary. And isn't.
"This isn't a documentary. It's not literary. It's something in between. I consider that my own style," he says.
"No one in my movie is wrong. Xi's family, his classmates' parents, the school, the media, the government ... they all have solid reasons for their actions. I don't want to take a stand."
Zhang initially tried to dodge questions about his motivation, which drove him to interview more than 100 families facing such challenges and people working in the special-education system across the country.
He eventually disclosed that a close relative faces this reality and declined to say more, citing privacy concerns.
This made him attuned to autism in children.
In 2008, a 16-year-old autistic boy in Shanghai was reportedly locked up in an iron cage every day when his father went to work in a factory, the city's Eastday.com reported.
In 2012, a 9-year-old autistic boy in Shenzhen jumped out of a window and died after other parents' protests kept him out of school, the local New Express Daily reported.
The World Health Organization estimates one in 160 children has an autism-spectrum disorder.
Reading about these realities broke Zhang's heart-and set his mind racing.
He threw out three scripts for a trilogy and frantically rewrote the plot with his team.
"It's the job of politicians and economists to change society. My role, as an artist, is to document the era and make my audiences think."