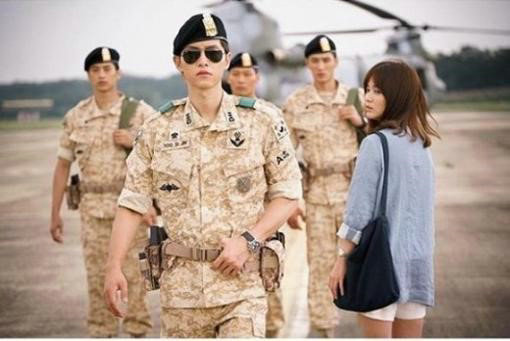 South Korean drama Descendants of the Sun becomes a hit with China's online community.[Photo/CFP]
The country's largest online broadcasting platform held a two-day seminar in Beijing called iQiyi World last week to offer a view of the company's ambitions in TV dramas and films.
According to iQiyi, 304 feature-length films were released via the website in 2014, which Yang Xianghua, vice-president of the company describes as the "first year of big films online".
The number climbed to 612 in 2015, and Yang predicts it will surpass 2,000 this year.
"Chinese filmmakers produce about 700 feature-length movies every year, but only about 250 enter the cinemas. So, where will the rest go?" asks Yang, who believes that websites will give them the opening.
As of now, only a certain portion of the money that iQiyi makes from advertisements or paid programs is given to filmmakers. But, no filmmaker earned more than 1 million yuan ($153,500) a film on iQiyi in 2014.
Nevertheless, there were 35 filmmakers in 2015. And, it is estimated more than 200 will earn more than 1 million yuan per film this year.
Explaining the rise in the number of films expected to cross the mark of 1 million yuan, Yang says this is due to improved quality of film making.
"This (the higher earnings) will also lead to bigger-budget films appearing in the web space," he says.
"Before 2015, almost all big online films had budgets less than 1 million yuan, but we believe this year we will see productions costing between 5 million and 10 million yuan."
He also says that the lower cost of distribution online compared with the cinemas will attract major production houses to switch to online distribution channels.
Both online films and drama series are often rapped for focusing mainly on horror, soft porn or supernatural themes which the authorities keep a close eye on.
However, the industry is now eager to shake off this image. For example, iQiyi says it plans to focus on more positive material after paid users on its platform surpassed 10 million in December 2015.
It has since cooperated with South Korean producers to make and release Descendants of the Sun, a military romance which attracted more than 2.6 billion views since its premiere in February, making it the most watched Korean drama broadcast on Chinese websites.