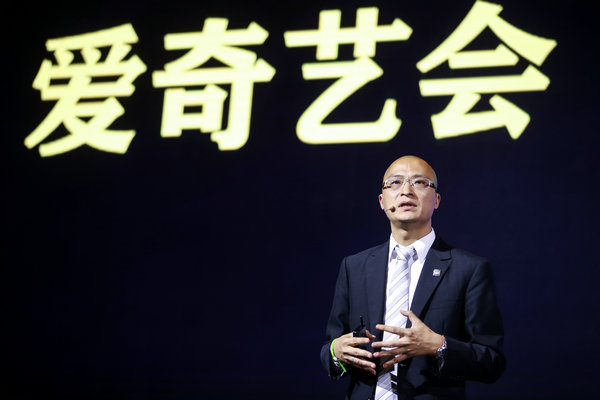 Yang Xianghua, vice-president of iQiyi, believes more quality films will go online.[Photo provided to China Daily]
Explaining the changing trend, Hou Hongliang, the producer of last year's hit TV series Nirvana in Fire, says: "The past year tells us that online dramas cannot be stereotyped."
Hou, who was speaking at an industry forum at iQiyi World, says: "There is no such thing as material which typically suits online drama or TV drama. Technology has narrowed the differences between the two versions, and online dramas will be more diverse in future."
But Xia Chen'an, CEO of Beijing Culture, a new film studio, says online dramas have their advantages.
"The history or fantasy genres on TV, for instance, still face tighter control (from the country's TV & film administrations), and this provides cyberspace with an opportunity."
He also says interactions between online platforms and users offer a major way for online platforms to maximize their earnings.
For example, users can immediately purchase apparel that actors wear in online dramas, offering the platforms a lucrative opportunity.
Screenwriter Wang Qiang sees things progressing a bit differently.
"Like sitcoms in the 1980s America, it's natural for China's online dramas now to be low cost and easier to approach. But as the technology develops and efficiency improves, it is inevitable that more bigger themes will be tackled," he says.
For instance, L.O.R.D: Legend of Ravaging Dynasties, a fantasy series based on a popular novel by Guo Jingming, is being produced by iQiyi and its partners, and is scheduled to be released in September. It is claimed that the series has a storyline that can compete with the Game of Thrones series.
Meanwhile, the internet conglomerate signed agreements last week with Warner Brothers to produce a Chinese version of popular American teen TV series Gossip Girl, which will be released in 2017.
Separately, despite the growing popularity of the online platforms, producers seem to be getting the message that ultimately it is about quality.
For instance, iQiyi's founder and CEO Gong Yu has said they will now try and follow the example of American drama series which restrict their episodes to 12-unlike typical Chinese TV series that have an average of 45 episodes-to maintain the quality of each episode and ensure that the budget for each can match a regular film.
"No matter how creative the online platforms are, some basic principles of film and TV production cannot be ignored.
"If big film and drama series want to thrive online, old-fashioned quality control must be maintained," says Wang.