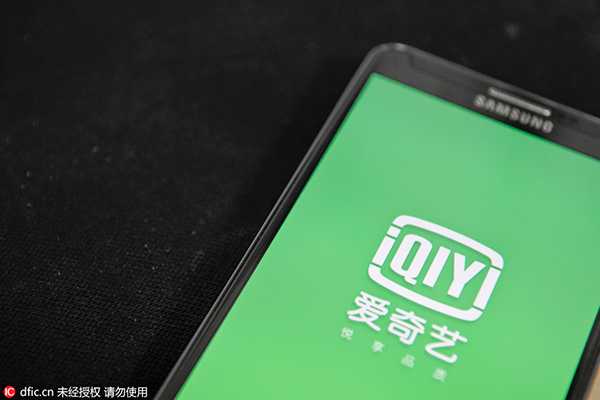 The loading page for iQiyi is displayed on a smartphone. [Photo/IC]
iQiyi, one of the largest video-streaming sites in China, announced a major push on Thursday in virtual reality with an ambitious goal to build the world's largest Chinese-language platform for the new technology with partners.
Beijing-based iQiyi said it will launch two new apps, iVR Panorama Cinema and iVR Game Room, as well as a new feature in its existing app to allow users to enjoy their VR viewing experience.
More importantly, it will establish an incentive scheme to support VR content producers and VR gear producers to jointly build an "ecosystem" that is expected to boost the overall development of the sector.
iQiyi's announcement that it would tap into VR, a technology that gives users an immersive experience in a non-physical environment, is seen as an important move for the company to consolidate its leading position in China's video-streaming industry.
The company, which was majority owned by Baidu Inc, announced in February it would seek a listing in the Chinese mainland at an appropriate time once its privatization plan is completed.
"In recent years, investment in VR hardware development has made significant gains, but this cutting-edge technology still remains a futuristic concept to ordinary people in the absence of a VR content platform," said Gong Yu, founder and chief executive officer of iQiyi.
"iQiyi's expertise in online video and games will serve as a springboard to build up an open and complete industry chain that covers VR production, distribution and interaction," he said at the opening of the 2016 iQiyi World Conference in Beijing.
With an estimated revenue of more than 5.6 billion yuan ($860.5 million) in China in 2016, VR has already become the battlefield for a growing group of tech companies in China, from e-commerce giant Alibaba Group Holding Ltd to internet major LeEco Holdings Co.
Statistics from industry consultancy firm iResearch Consulting Group predicted that VR market revenue in China is expected to exceed 55 billion yuan by 2020, a sharp increase from 1.5 billion yuan in 2015.
However, factors such as a lack of VR content and immature VR technology remain obstacles which could hampering the industry's further growth.
As part of the incentive scheme, iQiyi said it will provide marketing, production and operation assistance to more than 300 of its partners in the VR content and device manufacturing sectors with a goal to attract 10 million VR service users in the next 12 months.
Pang Yiming, an analyst with Beijing-based internet consultancy Analysys International, said that it is a smart move for iQiyi to tap into the VR sector as the company will transform itself from an online video site into an online content platform, providing not only videos but also games and e-books.
"It is very necessary for iQiyi to tap into VR, the next big thing, as it works harder to connect users and content," she said.
"By doing it together with partners in content and gear production, iQiyi may see its VR service take off quickly. The only downside is that the model of teaming up with partners can be easily replicated by its competitors in the online video sector," she added.