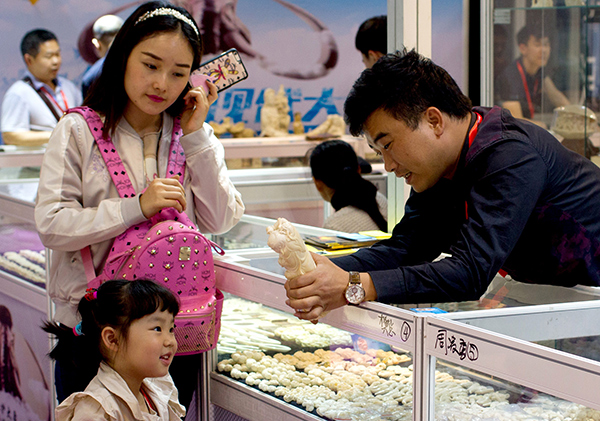 An exhibitor shows a carving to a girl at the Shanghai International Jewelry Expo 2016. The show has attracted nearly 1,000 exhibitors from 12 countries and regions. [Gao Erqiang/China Daily]
Sales of expensive precious metal and natural gem jewelry have dropped, but those embedded into wearables or smart devices are becoming increasingly popular, according to traders and experts attending the Shanghai International Jewelry Expo 2016 this week.
They said the shifting trend illustrates just how different generations of buyers now view investing in such expensive items.
"Elderly consumers prefer gold and natural gem jewelry because they believe they retain value," said Liu Yuhua, general manager with Yuecai Jewelry Co, based in Shenzhen, Guangdong province.
"While young consumers prefer well-designed, fashionable types of jewelry, which also feature the latest technology.
"However, as demand shrinks for precious metals and gems, as economic growth slows, many consumers are turning to more affordable, fashionable items and more of this type of products have been launched this year to meet growing demand."
The latest industry data show the changing economic climate has been affecting the jewelry market for the past two years.
Statistics from the Gemological Association of China show retail sales revenue of gold and gem jewelry in China in 2015 was about 500 billion yuan ($76.9 billion), growing by 2 percent over 2014.
Gold jewelry consumption and manufacturing demand slumped 14 percent to 193.6 tons in the first quarter of 2016, according to the China Gold Association.
Yang Sisan, the association's deputy secretary-general, said like many sectors, the jewelry industry is also in dire need of reducing inventories, and cutting overcapacity.
"Many aspects of the sector need to be improved, such as design, craft and branding and innovation," said Yang.
Companies launching new products, which embed wearable devices, have seen the most positive results, according to participants at the Shanghai event, which runs until Monday.
Mira Lee, regional manager with Shenzhen-based Kingee Intelligent, said it's been developing smart rings, with a displayer hidden among gold and silver bands, which can display health indicators such as heart rate.
"We launched the series only in April and sales have been beyond expectation.
"The average price is around 1,000 yuan for silver models and 5,000 yuan for gold, very affordable pricing points for consumers," said Lee.
Guo Ying, head of the Gemological Institute at China University of Geosciences, said product diversity will become increasing important in the future, but cautioned it may take a while yet for China's jewelry market to fully adjust to all types of modern consumer demand.