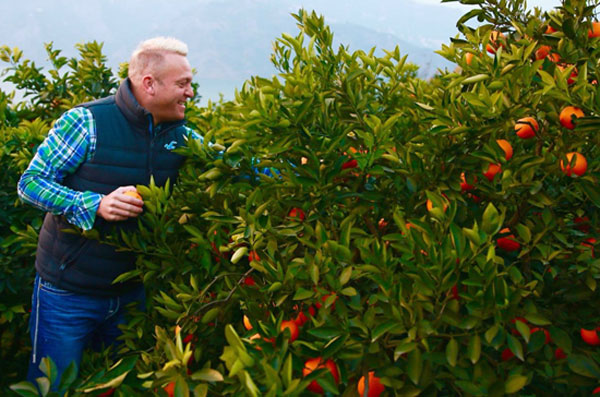 Nourish founder Richard Craggs inspects fresh produce at a farm in southern China. Photo provided to China Daily


A British-born businessman is spearheading a catering revolution in school and factory canteens throughout southern China
When it comes to retaining factory workers in China you don't have to look much further than what's being served up in canteens at lunchtime, according to Richard Craggs, founder of Nourish Limited.
Inspired by famous British chef, Jamie Oliver, Craggs is now providing fresh, healthy and affordable meals using quality local products to schools and canteens throughout southern China.
Oliver is known in Britain for his campaign to improve the freshness and quality of the food offered in UK state schools.
"After spending 20 years running companies with a manufacturing base in Hong Kong and China I saw the working and living conditions of the factory workers first hand," Craggs says.
"Leaving my six figure (USD) salary I decided it was time to give back to see if I could make a difference."
Having spent 18 months examining China's canteen and food and beverage industry, Craggs says he invested his life savings in research, development and testing, including a pilot canteen with a budget of 5.9 renminbi (63 UK pence) per meal.
Subsequently, in July 2014 Nourish Limited was born.
The company, which turned over USD11 million in its first year of operation, now operates 22 canteens, mostly across Guangdong, south China.
It serves approximately one million meals per month to workers in factories of global brands including, Emerson, Foxconn, Volkswagen and Audi as well as students in a number of international schools.
Huang Jun, administrative manager at a Foshan factory that assembles Volkswagen and Audi cars, told China Daily: "Our factory employees work hard, and as a responsible company we wish to ensure we are constantly improving their living and working conditions.
"The most important perk to our workforce is food, and we are thankful that we chose Nourish to manage our factory canteen," he said.
Since Nourish took over operations there, worker use of the facility has risen by 176%, albeit on the same budget.
"Food safety and quality is paramount…we can now concentrate on other areas of our business whilst they look after our mealtimes," Huang Jun said.
Craggs said Nourish has also become involved in running school canteens.
"Parents have been voicing their concerns about poor quality foods for some time and schools seem reluctant to change as from past experience, a change in supplier didn't lead to a change or improvement in quality," Craggs says.
The Chinese Government is currently working hard to introduce tougher regulations and enforcement around the food supply chain, partly as a result of the multiple food scandals and to ensure quality for its citizens.
"I know that old vegetables are heavily discounted at the local wet markets and many canteen caterers try to profiteer through purchasing ingredients with little or no nutrition at the expense of the workers' health or dietary needs," Craggs says.
"Our aim is to support the Chinese government in creating quality, tasty, healthy and most importantly safe meals for kids and lower income workers."
With budgets starting from as little as RMB3.5 to RMB12 per meal, factory workers and students can now choose from a variety of traditional, fresh dishes supplied by Nourish, including Sichuan-style Gong Bao Chicken and Ma Po Tofu, with unlimited rice and soup.
Chan Ze Bo, a teacher at Baoan First International School, said things had changed since Nourish took over their dining facility in 2014.
"Our kids have been delighted with their quality and creative menus. We finally look forward to each mealtime, and with a standard meal at 7.5 renminbi it's really very affordabl."
And when it comes to direct competition in factories and schools Craggs says his canteens outsell many caterers three to one.
"We believe we have worked harder than our competition to build scale. Initially when we were a smaller player and we couldn't get the bulk discounts that larger food purchasers can achieve so we contacted 13 competitor canteen caterers and offered to supply ingredients to them, enabling us to gain bulk purchasing scale," he says.
One of the major factors in Nourish's success is that it buys from farms directly; allowing it to ensure the ingredients are fresh, safe and at a cost where the middlemen have been removed.
"Through personally visiting farms we identified that wholesalers were adding a 20 percent margin on top of the farm's direct price so we reduced this margin to support the farmers and have since started purchasing direct," Craggs says.
"The additional margin that this frees up allows us to hire better quality chefs and invest in recipe management to improve our offerings."
In many cases, Craggs has been the first foreign customer to visit farms, including meat, fruit and vegetable suppliers in Hubei.
"It's a pleasure to support the local farmers with higher prices, however we were only able to achieve this through purchasing 12 tonnes of food per trip, all planted 2-3 months in advance," he says.
With some 600,000 factories in South China employing 40 million workers, Nourish now sees almost unlimited potential for growth there and beyond.
"We have started discussions with top quality Asian and International Chefs, our own recipe management team and food schools to see if we can make Jamie proud," says Craggs.
The author is a freelance who contributed this article to China Daily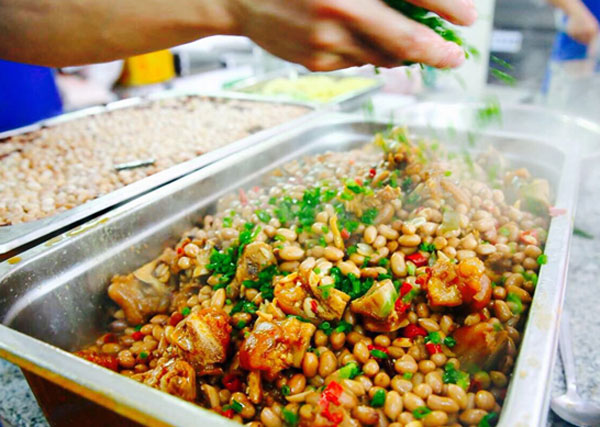 Some of the fresh food produced by Nourish for southern Chinese schools and factory canteens. Photo provided to China Daily