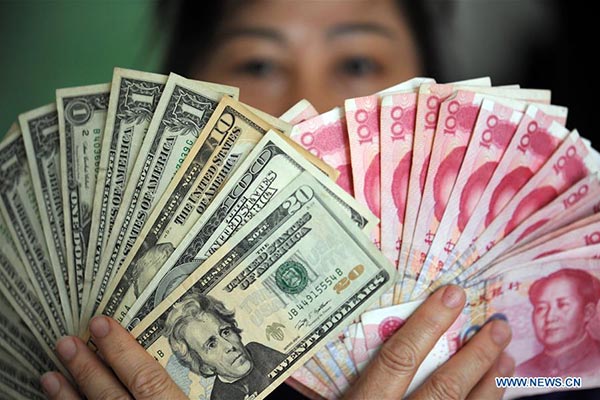 A residents shows China's yuan and US dollar banknotes in Qionghai, South China's Hainan province, Jan 7, 2016. [Photo/Xinhua]
BEIJING - China's foreign exchange reserves ended April at $3.2197 trillion, up $7.1 billion from March and beating market expectations of 3.20 trillion.
This marked a second month of increases following the unexpected rise in March that put an end to a falling streak since November, according to data from the People's Bank of China.
"A second month of rising reserves shows fears of cascading capital outflows are disappearing into the rear view mirror," said a research note by Bloomberg economists Tom Orlik and Fielding Chen.
Until recently, concerns about capital outflows had been on the rise as the economy slowed and the Chinese currency had fallen since China revamped its forex mechanism last year.
But resumed stability in international financial markets and positive signs in the domestic economy have reduced the pressure of capital outflow since the start of this year.
The Bloomberg economists attributed the relative stability in the reserves to a stable yuan, which dropped 0.38 percent against the US dollar over the month, and rising property prices and stable equity markets that have given speculators a domestic asset to park their wealth in.
Signs of returning life in the real economy and policymakers' assurance on yuan stability also played a role.
The strength of the US dollar has been weakening following the dovish stance of the US Federal Reserve, enabling the yuan to hold steady. On the domestic front, increasing signs of firming recovery in China's economy also supported the currency's strength.
However, the Bloomberg economists pointed out that as anticipation of a Fed move builds dollar strength in the months ahead, China's central bank will face the more difficult task of managing the yuan without triggering a fresh round of market panic and capital exit.
They forecast the yuan will end 2016 at 6.67 against the US dollar.
Saturday's data also showed China's gold reserves reached $74.75 billion at the end of April, up from $71.48 billion in March.