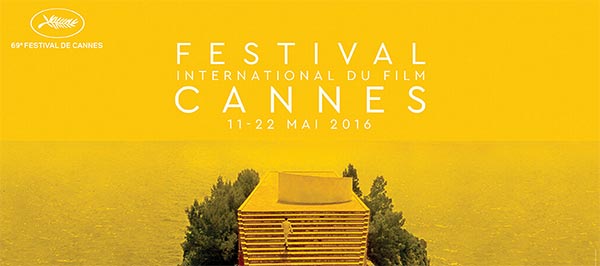 Poster of 69th Cannes International Film Festival. [Photo/www.festival-cannes.com]
Mexico is set to have a high profile at this year's Cannes Film Festival with the participation of Mexican films, actors and judges.
This year's Cannes on May 11-22 will see the screening of Mexican short film Las Razones del Mundo (The Reasons in the World) in the festival's Cinefondation section, which presents works by film students.
Las Razones del Mundo is one of only 18 school productions chosen at the festival out of some 2,300 submissions.
The film directed by Ernesto Martinez Bucio, a student at Mexico's Center for Cinematographic Training, tells the story of kidnapping from the point of view of a woman who is a member of the criminal ring behind the crime, and who begins to feel remorse when the latest victim turns out to be a young boy.
Apart from the high-profile short film, Mexican actor and director Diego Luna has been selected to serve on the jury of the festival's Un Certain Regard competition, which is designed to promote young talent and unique cinematic styles.
Meanwhile, Mexican actor Gael Garcia Bernal will appear in the Chilean film Neruda, which will be screened in the festival's Director's Fortnight section.
Mexico will appear again at Cannes Classics, with a restored copy of the 1966 film Tiempo de Morir (Time to Die) by filmmaker Arturo Ripstein, three of whose films have been nominated for the coveted Palme d'Or prize.
The Guanajuato International Film Festival and the Los Cabos International Film Festival in Mexico will also contribute to this year's Cannes Film Festival.
Mexico's international festival of horror films, known as Morbido Fest, will travel to the French riviera with six of Latin America's best films in the genre.
Morbido's Mexican pick is Tenemos la Carne (We Have the Flesh), the story of a brother and sister surviving in a post-apocalyptic Mexico.
Related:
Feng Xiaogang and Bai Baihe win big at 23rd Beijing College Student Film Festival