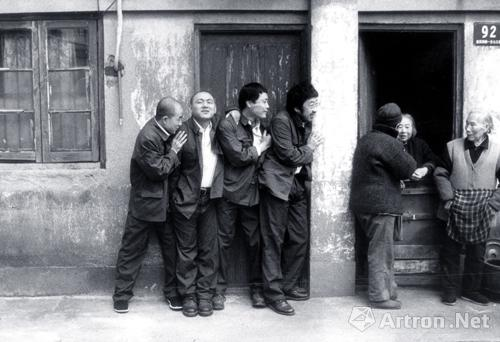 Yang Fudong's artwork, The Rear-room of a House: Hey, Day Breaks. [Photo/Artron.net]
More than 20 sets of moving images collected by a French couple are on display in Shanghai.
Welcome to my Life, an art exhibition opened Wednesday at the Himalayas Art Museum in Shanghai on Wednesday. It's a display of 23 sets of moving images collected by Isabelle and Jean-Conrad Lemaître. The exhibition is a major program during this year's Festival Croisement between China and France, and was organized by the museum and the cultural department of the French embassy in China.
The exhibition is divided into five sections. At the entrance of the No. 1 exhibition hall is Turner Prize winner Mark Wallinger's artwork, Threshold to the Kingdom, created in 2000.
Under the guidance of Luz Maria Bedoya's work, Direction, audiences can enter the No. 2 exhibition hall and enjoy works by the Golden Lion Prize winner of the Venice Biennale, Christian Marclay, and Steve McQueen's early ironic work, Exodus.
The No. 3 exhibition hall features the photograph, Echo, taken by Jennifer Allora and Guillermo Calzadilla in Puerto Rico, which tells scenes related to resistance, freedom and the new era.
The No. 4 and No. 5 exhibition halls display Yang Fudong's photography, Mika Rottenberg's short film and Rottenberg's artwork Walking Man.
The exhibition ends with Liu Zhenchen's video work
Goodbye
, which portrays the luxurious cruise ship, Queen Mary 2 setting sail while passengers wave to those on shore.
With thoughtful planning, the whole exhibition takes visitors on a journey through audio and silence, happiness and depression as well as conflict and harmony.
The exhibit ends June 26.