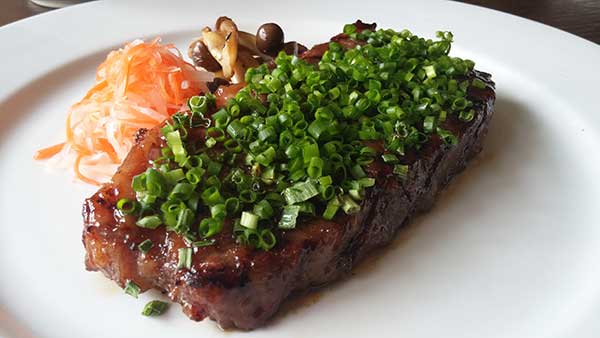 The bulgogi steak, cooked with South Korean barbecue sauce, is a signature dish at VIPS Steak& Salad Bar in Beijing.[Photo by Liu Zhihua/China Daily]
Not every restaurant would be comfortable describing one of its leading menu offerings as "stone steak". But VIPS Steak & Salad Bar, a popular South Korean restaurant chain owned by that nation's CJ Group, does so with pride.
Of course, that name doesn't mean you get a piece of meat that's hard as a rock. "Stone steak" is a Korean specialty: medium-rare steak presented on a hot stone slate, which diners can take and pan-fry at the table themselves to the level of doneness they like.
Chinese customers are often allured by lifestyles shown in South Korea soap operas and movies. The owners at CJ Group, which has business ranging from film, K-pop and food, have taken advantage of their cultural appeal and extended the company's success to China with two branches. The original customer base was South Korean expats, but now more than half are Chinese, says head chef Tian Yulong.
On my visit to the original branch on Jiangtai Road in Chaoyang district in Beijing, which opened in 2012 (the Solana-area restaurant opened in 2013) for a Tuesday lunch, I found the restaurant almost packed with diners.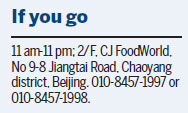 Most customers come to enjoy meals with families and friends, and on weekends, it's advisable to book a table in advance, I'm told.
The restaurant's appeal seems rooted in its delicious and distinctive steaks, which are cuts of rib-eye, filet, sirloin and porterhouse are imported from Australia.
Some steaks follow original Western recipes to produce authentic flavors, while some, like the "stone steaks", are prepared with a South Korean twist.
I tried two recommended specialties, the bulgogi steak and "New York strip yum stone steak".