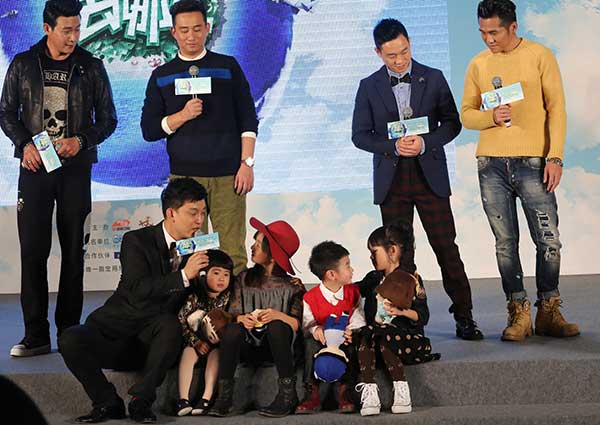 Actor Lu Yi (back row fromleft), actor Huang Lei, Olympic gymnast YangWei and singer Gary Chaw watch their children interact with TV show host Li Rui during amedia briefing for the movieDad,Where AreWe Going? in Beijing on Nov 25, 2014. The filmwas a spinoff of a popular Chinese reality TV show of the same name. [Photo by Jiang Dong/China Daily]
China has banned children younger than 18 from appearing in reality TV shows to help them avoid potential problems caused by finding fame at an early age. Wang Yanfei reports.
Few TV programs in China earn higher, or faster, ratings than those showing how parents raise their children, especially when the parent is a chic, well-known celebrity.
Soon though, audiences will no longer be able to see this type of program because the State Administration of Press, Publication, Radio, Film and Television recently banned children younger than 18 from appearing on TV reality shows. The move is designed to avoid the potential pitfalls of "overnight fame", according to a statement released by the administration.
The new regulations are already making an impact on what was a fast-growing industry, resulting in the immediate cancellations of some of the most popular and profitable shows that have sprung up since the 2013 launch of Dad, Where Are We Going?, the first reality show in China to feature children.
Statistics from the nation's media regulator showed that more than 100 entertainment programs were broadcast on national TV last year, and many of them were reality shows that featured children. In total, the programs generated more than 10 billion yuan ($1.5 billion) in advertising revenue.
Based on a South Korean program of the same name, the weekly Dad, Where Are We Going? featured celebrity fathers taking their offspring on camping trips and undertaking assigned tasks, such as cooking meals and building their own shelters, plus bonding by playing soccer and other sports.
The famous fathers came from diverse backgrounds, such as Jimmy Lin, a singer and actor from Taiwan, and diver Tian Liang, who won a gold medal at the 2000 Olympic Games in Sydney.
The first program of the final series, which was broadcast in October, attracted more than 75 million viewers, generated millions of yuan in advertising revenue and spawned a number of spinoffs, including a raft of "how to be a good parent" guidebooks.
After the show's first season, a movie of the same title nett-ed a record 700 million yuan, a feat described as a "box office miracle," by Zheng Qu, a manager with Real Dream Productions in Beijing.