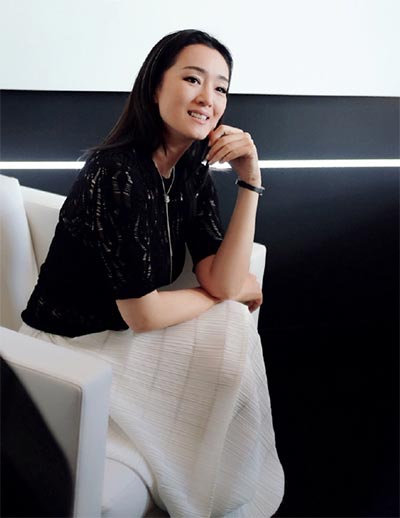 Actress Gong Li. [Photo/Weibo]
Not a single Chinese film is competing for the Palm d'Or, one of the highest honors films can receive at the 69th Cannes International Film Festival, but that didn't stop Chinese stars from leaving their footprints on the red carpet in Cannes.
World-famous actress Gong Li, who is a regular at Cannes, was also there, as she was invited by one of the sponsors for the festival.
Gong, known for her straight-forward attitude, said she felt it was regrettable that China's film industry was so focused on amusing itself. Many directors place emphasis on the number of films they produce and tickets they sell, instead of the actual quality of the films.
And as for the young actors who frequent the Cannes red carpet, Gong advices them to "see more films and love your job more from deep under. If you go off topic (referring to actresses only showing up to be photographed in international media), you've come for nothing, and that's a pity."
Q: This is your 15th time at Cannes. Is there anything new each time you come?
Gong: Every time I come I feel that this career is great, and not something to give up on. Sometimes when I'm tired, I really feel like I want to stop filming. But when you come to Cannes, and see so many people respecting films, and when you walk into the theater to see films, you feel like this is a great career, an indispensable part of your life. Your job is great, carry on.
Q: Many master directors entered their works this year. Which ones are you looking forward to?
Gong: I've seen a couple of films from South Korea and Japan. None from China are here this year, that's a shame. I think the competition is fierce, because some of the directors are newcomers so I don't know who'll win. I also don't know the tastes of the jury, they come from different countries, some are actors and some are directors, so it's hard to imagine. I want to see all of the entries this year. All films selected to compete in Cannes are great films.
Q: No Chinese films have entered or are participating in the out of competition section. That's pretty rare.
Gong: It's not like China has had great films previously and none this year. It's been like this for some time. China's market is great, but the biggest problem is it's trying so hard to amuse itself. It can't walk out of the shadow Hollywood cast upon it. Chinese films for foreign audiences are still the films of the past, and they don't have high expectations for today's films in China. I'm regretful that I haven't seen a good Chinese film in a long time. Chinese filmmakers should really think about that. Films are not just there for entertainment; films should be able to cleanse your soul.
Q: What's your take on the rising directors? Would you work with them?
Gong: I don't care whether the director is young or a master. What attracts me is a good role and a good script. Filming is teamwork. A good director without a good team cannot produce a good film. A good actor in a not-so-good team cannot shine. Many new directors want to try, but their works must sell, so they go to the extremes and film stories aimed at entertaining the audience. This is going off track, and it'd be hard to get back on track for some time. They'll need some time to let things sink in.
There are many directors in China, but the topics they choose are very similar. Or, they would aim at the market. Quality is not important and all they care are about is numbers, or money. This is neither good for Chinese films nor Chinese culture.
Q: Not just for directors but also for actors. Many young actors are here at Cannes, and even more Chinese internet users say they are just here to walk the red carpet. They want to gain exposure at the festival, and then go back home to take on projects (and not the other way around).
Gong: If they really think this way then they are wrong. But I think you can participate, come, and see what film festivals abroad are like and how much respect actors abroad have for films.
Our actors should go beyond the national border, see some films if they've got time, and not just walk on the red carpet and leave right after. See the films, it'll be helpful for your career, and maybe you'll love your job more from deep under. If you have this mindset then coming to film festivals won't do any harm. If you go off the tracks, then you've come for nothing, and that's a pity.
Related: