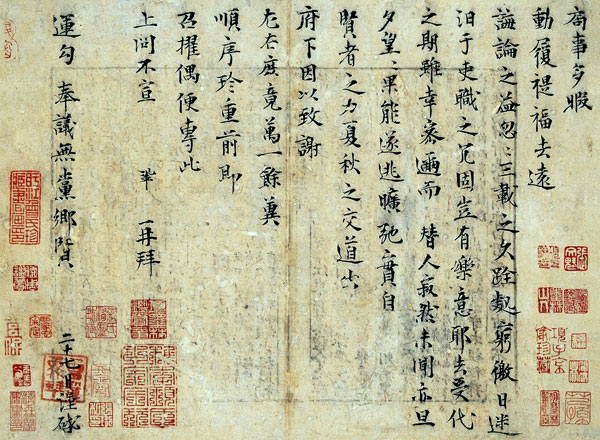 The letter, titled Jushi Tie, by Zeng Gong written in 1080.
A Song Dynasty (960-1279) calligraphic letter of 124 characters was sold for 207 million yuan ($31.7 million) to Chinese media mogul and art collector Wang Zhongjun at a Beijing auction on Sunday night.
The letter, titled Jushi Tie (A Letter on Happenings), was composed by the famed politician and scholar Zeng Gong on Sept 27, 1080, during his 12-year service in local administrations.
In the letter, he thanks an unidentified friend for being supportive in the long term. Between the lines, however, he also shows a dissatisfaction at being unable to implement his political ideas in the royal court.
Zeng is ranked among the "eight masters of prose of the Tang (AD 618-907) and Song dynasties". Very few of his writings still exist.
Once owned by Belgian collectors Guy and Myriam Ullens, the letter was auctioned at 108.6 million yuan in Beijing in 2009.
The participation of Wang, who bid over the phone, surprised many people, since he is known for being an ardent buyer of contemporary Chinese and, recently, Western art. He spent $29.9 million on a Picasso painting, Woman With a Hairbun on a Sofa, at a Sotheby's sale in New York in May last year.
The letter by Zeng Gong topped the Grand View auction of classical Chinese paintings, staged by China Guardian Auctions, which grossed 1.11 billion yuan in total.
In the same sale, a calligraphic album in running script by the Ming calligrapher Song Ke was sold for 92 million yuan to Zhang Xiaojun of Shanxi province. An album of calligraphic Buddhist sutras, poems and paintings by intellectuals from the Tang and later dynasties sold for 57.5 million yuan.
The Grand View auction of classical Chinese ink art, held twice a year, is seen as a barometer of China's art market.
Luan Juli, general manager of China Guardian's Chinese painting department, said after the sale that classical Chinese art will play a bigger role in supporting the whole art market.
The most expensive classical Chinese ink art sold at auction is Di Zhu Ming, a calligraphic hand scroll by Song Dynasty master Huang Tingjian that fetched 436.8 million yuan in Beijing in 2010.