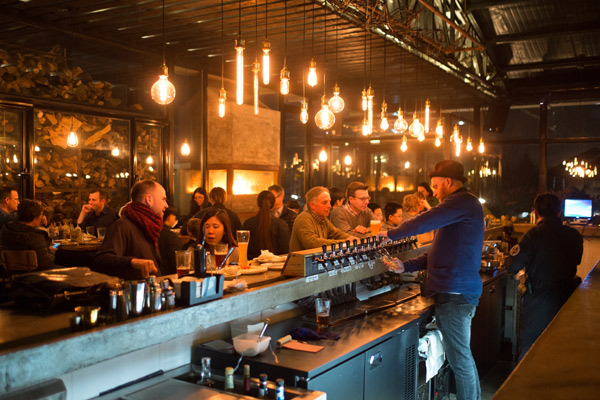 A place where Yorke and Gaestadius used to brew-called Charcoal-but closed now. [Photo provided to China Daily]
When Will Yorke started making beer in an alley in Beijing four years ago, craft beers were virtually unknown in the capital.
As the Briton set up his business in Dongcheng district he confronted the normal uncertainties of any business pioneer, but there was one thing he was sure of: there was no competition to speak of, so he would have the field to himself.
How times have changed. In the past two months alone, Yorke says, the craft beer market in Beijing has doubled.
"It's like a massive explosion."
Yorke has expanded his operations recently, opening a taproom overlooking Liangmahe canal in the city's Chaoyang district. There he and Thomas Gaestadius, a long-time friend and business partner from Sweden, are producing a beer brand called Arrow Factory.
"Both foreigners and Chinese here are increasingly interested in craft beer," Gaestadius says.
"But making beer is not just a business, about making a lot of money. It's closer to the heart than that."
To open a brewery and produce craft beer, Yorke says, one has to "pay one's dues".
Yorke's and Gaestadius' first brewing venture was making beer to go with homemade sausages, in an operation that made just 140 liters in a batch, at Stuff'd, the restaurant they jointly own, which opened in 2012. Two years later they gave their brewing operations the name Arrow Factory Brewing, after the street where they set up their operations, Jianchang (Arrow Factory) Hutong. The first taproom that opened in May 2015 is adjacent to the restaurant.
"Brewing is about perseverance, commitment, and dedication, and taking risks, and facing failure," Yorke says, "Authenticity and credibility are really important."
"It's a shame that some people are now rushing into the business. They buy a great big system, and off they go, with no brewing experience, no restaurant experience, just eyeing the business."
Learning how to brew beer is akin to learning the piano, he says. "You may have a bad piano, and you use it for years, learning to play, but you understand and have a feeling for it."