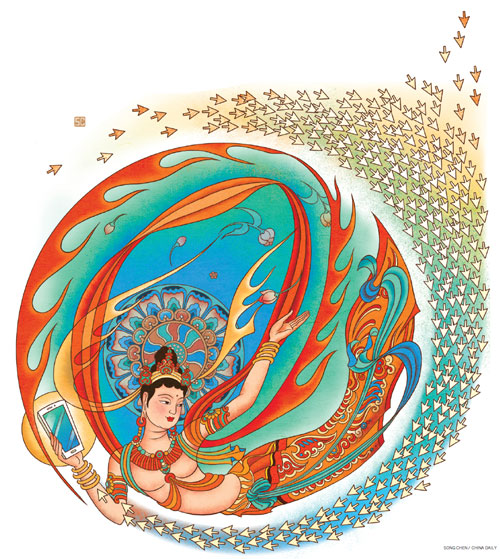 Deep in cyberspace, the fame of nascent celebrities is exploding in a wave of online actors and actresses, clothing and makeup advisers, singers, writers and gossips.
We read about their sumptuous lifestyles, latest loves and multimillion-dollar contracts in the celebrity pages and on gossip websites. But behind many a film star there are long periods of joblessness and menial work before they make the big time. Of course, there are countless thousands who never make it.
But Jiang Yilei, 29, has become a star virtually overnight in China - not from being snared by a big film studio, but thanks to the internet and social networking sites.
Jiang, widely known as Papi Jiang, previously was an unknown graduate student at the Central Academy of Drama. Eight months ago she began to produce, star in and distribute online dozens of short videos in which she plays a variety of characters and lampoons those in everyday situations such as dating.
She has attracted some 13.1 million followers on the Chinese microblogging site Sina Weibo over the past few months. The public spotlight fell on her when she attracted venture capital of 12 million yuan ($1.85 million) in March. On April 21, after fierce bidding among those vying to place advertisements alongside her videos, the hammer fell with a bid of 22 million yuan for the first ad to go with one of her online video clips.
Jiang, of Shanghai, is just one of thousands of Chinese to whom hugely popular internet social sites and social media such as Sina Weibo, WeChat and YY.com - which have hundreds of millions of users - have offered a stage.
"The way Papi Jiang managed to get venture capital and thus transform what she is offering into a commodity marks a sea change. This year heralds the beginning of the online celebrity economy in China," says Zhang Xiaorong, a researcher with the Tencent Research Institute, in a recent report.
"This will be the beginning of the making of online celebrities. Many online celebrities are going to emerge this year," says Xue Yongfeng, a researcher with Beijing internet consultancy Analysys International.