Finding fashion online as retailers seek new sales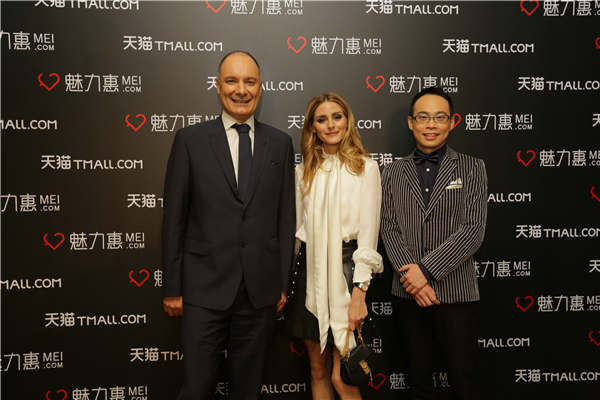 Mei.com's CEO and founder, Thibault Villet (left), with Olivia Palermo and president of Mei.com, Seamon Shi (right). Photos provided to China Daily
Retailers are moving to convert adversity into opportunity as they try to breathe new life into a sluggish market by using Internet platforms to hawk their high-end merchandise. Sun Yuanqing reports.
While the luxury goods retail market in China has been facing difficulties in recent months with sales declining and stores closing, some entrepreneurs are using this setback to seek opportunities online.
Mei.com, a "flash sales" platform for luxury goods and fashion, and Alibaba's major online marketplace, Tmall.com, held a fashion show on March 30 in Shanghai, announcing a collaboration to launch a luxury channel on Tmall.com.
The event follows Alibaba's investment in Mei.com last July, which is reported to be worth more than $100 million. The luxury channel began its test run in December, allowing Tmall customers to buy discounted luxury items from Mei.com.
A total of 42 looks were unveiled on the runway, all using pieces available on Mei.com. The show was live-streamed on Tmall and all the items were available on the Tmall app.
"We come from the luxury and fashion sectors, while Tmall specializes in data, technology and the Internet. The collaboration is to combine these competencies," says Seamon Shi, president of Mei.com.