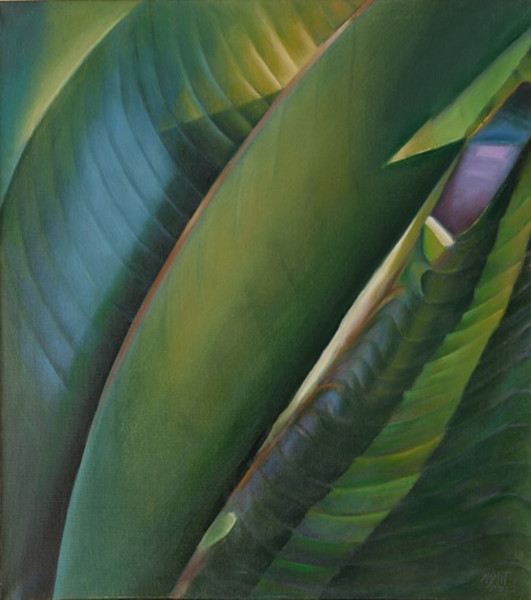 Morning Light by Mirjana Mit. Stojkovic. [Photo provided to chinadaily.com.cn]
Softness. Subtleness. Sophistication. Celebrated Serbian artist Mirjana Mit. Stojkovic's paintings offer these qualities through the stroke of a brush and in one artistic subject - leaves.
In her third solo exhibition in China, Stojkovic presents 31 pieces at the Artall Gallery Beijing that reflect the theme 'Ode to Nature'. The paintings evoke the power of life and nature in a show that ends Wednesday.
"When I see leaves, I don't see their actual appearance, I see their structure, their essence and their spirit," said Stojkovic.
The 72-year-old has developed her own unique approach to and philosophy of painting during her half-a-century journey in fine art and leaves have become the major subject for her recent series of work.
Her paintings are distinctive in a way that grasps the shared charm and abstract likeness between leaves and the universe - sometimes human bodies - opening up a large space for imagination and deep thinking. The delicate changes of color tone and the composition of the pictures gives people a strong sense of space that stretches fluidly.
"Leaves symbolizes the strength of nature and life, the eternal existence of nature, regeneration of nature, and the drama of life and death," Stojkovic said.
Her philosophical oil paintings express the joy that's shared by people who live in harmony with nature and the balance of natural power - a Taoist-like mindset, yet in an artistic way.
With two daughters working in China, Stojkovic loves Chinese culture deeply, especially traditional ink wash paintings. She is impressed by the subtleness and simplicity that Chinese works feature and a similar sense of color and abstraction can be seen in her work.