Changyu ready to make a splash with wines in Europe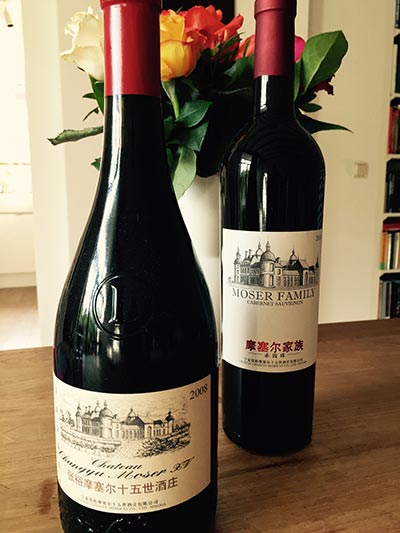 Two of the premium wines Changyu's Ningxia winery is sending to Europe this week. [Photo provided to China Daily]
After two years of cosseting in French oak, and deft blending by in-house winemaker Fan Xi, thousands of freshly bottled wine have left Chateau Changyu Moser XV bound for Europe.
For most of its short life, the Chinese wine market has been growing faster than producers could keep up. Commercial giants like Yantai-based Changyu had little need to produce wines of superior quality when making it fast and cheap generated quick sales. Graced with European-style chateaux, Changyu vineyards now sprawl across millions of hectares in Xinjiang (its biggest operation), Laoning (where it makes an lauded ice wine) and Shaanxi (with what is said to be the largest wine cellar in Asia) as well as Shandong and Ningxia.
However, China's biggest companies took notice when boutique wineries sprang up in Ningxia and created what has become a Napa Valley wannabe, a wine zone that would feed a thirst for quality instead of quantity. When boutique labels like Jia Bei Lan (made by Helan Qingxue) and Pretty Pony (Kanaan) started scooping up international awards and accolades, the value of that effort became plain.
Convincing French people to drink Chinese wine might sound like the punchline of a joke.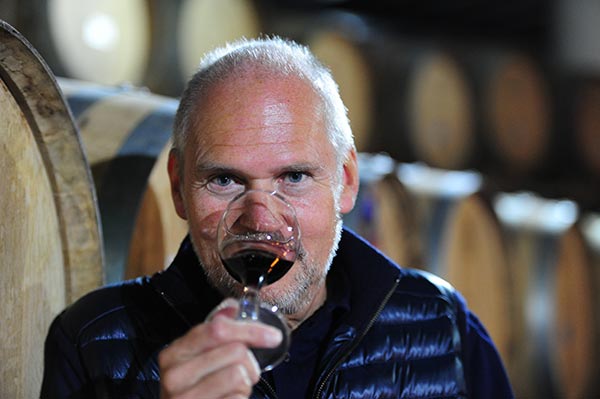 Lenz Moser savors the chateau-level wine of the 2013 vintage, just bottled. [Photo provided to China Daily]
But in the 1960s, California wines were shrugged off as "mouthwash", until a pioneer named Robert Mondavi changed perceptions by developing Opus One and other vintages with some French collaboration.
"Ningxia is China's No 1 estate wine region," says Li Xueming, director of the Administration of Development of Grape Industry of Ningxia Hui Autonomous Region, "because we were the first to follow international wine standards."
"Changyu is China's oldest biggest and best winemaker, with state-of-the-art equipment," says Lenz Moser, the Austrian winemaker who is consulting on the company's Ningxia project. "They obviously had great market potential, but lacked international experience in both winemaking and marketing.
"Ninety percent of its business is in China, and that's not going to change fast," Moser observes. "But Changyu wants a global reach for its reputation and credibility at home as well as abroad.
Related:
Tasty figs get new attention on China's plates, farms
Superb selections for spring dining at Mandarin Oriental Pudong, Shanghai