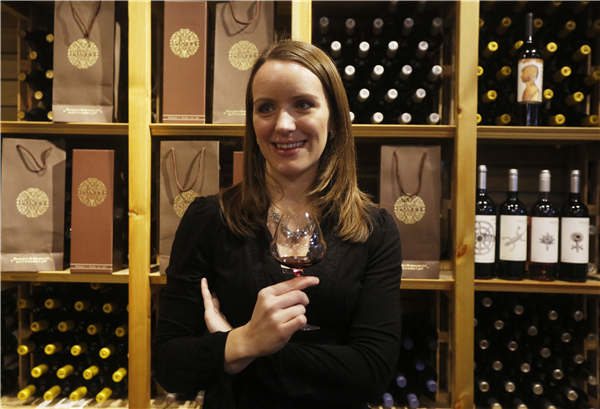 Helene Ponty promotes wine culture in China. Liu Zhe / China Daily
Wineries in Bordeaux, France, have always been about preserving the history and traditions of winemaking. Now, however, they must also embrace the ever-changing wine industry in China, says Helene Ponty, who represents her family's winery in the Middle Kingdom.
The Ponty family has been making wine in Bordeaux since 1905, but China is newer turf. Specializing in Merlot, Le Ponty wines came to the mainland in 2012. The brand now exports six handcrafted wines from a small village in Fronsac to provinces all over China.
Ponty, the 29-year-old daughter of current owner Michel Ponty, spearheads those efforts. She initially had little to no interest in joining the family business, and even her family wasn't clinking glasses in celebration right away.
"My parents didn't think it would be successful," she remembers. "They thought I could do something better. You know, why would I not work with a big company?"
Also, history suggests that, for family-owned wineries, a family member inheriting responsibilities will typically find they are better at making wine than selling it, Ponty says.
The winemaking techniques come from the family's century-old heritage. The Pontys harvest their grapes by hand, which is something less than 15 percent of wineries in the world still do. Helene Ponty took great delight, during a recent visit home last fall, in creating a video on the process that she posted on social media in China.
When she moved to China, selling wine was not the plan. But soon she found she wanted to connect the dots for less-educated wine drinkers, who felt intimidated by something that was old hat for the Ponty family.