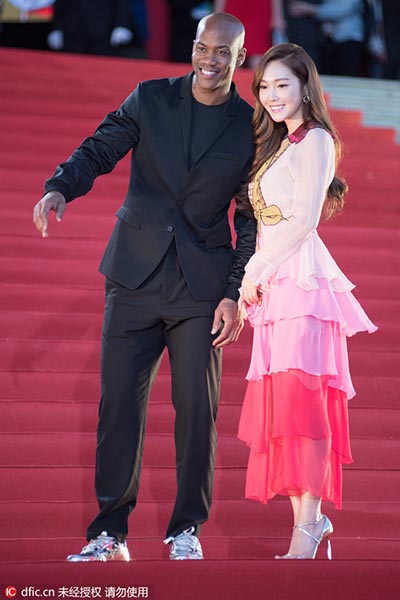 South Korea-based American singer and actress Jessica Jung (right) and American basketball star Stephon Marbury arrive on the red carpet for the opening ceremony of the Sixth Beijing International Film Festival in Beijing, China, 16 April 2016. [Photo/IC]
CBA star Stephon Marbury is to star in a movie about his life in China.
The 38-year-old American is a former New York Knicks player.
In 2010, he reinvented himself in China and has become a major figure in Beijing by leading the city's basketball team to three championships.
Marbury will make his cinematic debut as the lead character in My Other Home, a Chinese film that will tell his life story.
The film follows a string of honors Marbury has received in Beijing, all of which are rare for a foreign athlete in China.
They include a statue near a major sports venue in the city, a museum named "Marbury's Home", a postage stamp issued in his honor and most recently, a Chinese green card.
However, before Marbury's success in China, he had a difficult time struggling on the court as a player for the Knicks and the Celtics during his last few years in the NBA. With the death of his father in 2007, he was plunged into depression.
Marbury has said, through his social media Weibo account, that the movie is about love, pain, passion, faith, glory, redemption and a culture that changed a man inside of him.
Retired NBA star Allen Iverson and Baron Davis will also appear in the film, playing at a game with Marbury.
The production house has also invited non-athlete guest stars from other countries and parts of China including South Korean A-list celebrity Jessica Jung, who will play Marbury's agent.
The film, which has a $10-15 million production budget, is expected to be released in China during the CBA game season toward the end of this year.
Related: