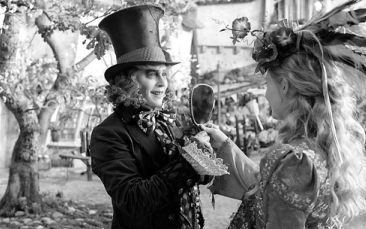 Alice Through the Looking Glass stars Johnny Depp (left) and Mia Wasikowska.[Photo/Agencies]
Alice Through the Looking Glass, like its predecessor, owes very little to Lewis Carroll.
Textual adherence is somewhat beside the point when serving as a sequel to something that's also cherry picked. But, lest you think that a six-year gap and the absence of Tim Burton in the director's chair might have allowed for a return to the gleeful absurdity of Carroll, it doesn't.
Screenwriter Linda Woolverton has again disposed of the source material in favor of something more linear-a story about Alice (Mia Wasikowska) looking for Hatter's (Johnny Depp) family.
Director James Bobin's film trudges on through the lushly designed world answering questions we never asked, like, "What was the Mad Hatter's childhood like?" And, "why does the Red Queen have such a large head?" In other words, it's an Underland origin story.
We meet Alice some years after the first film faced again with the prospect of losing her independence. Last time she was fleeing a proposal.
This time her livelihood is in jeopardy-she's a sea captain now, and a good one. So when life gets frustrating in the real world, Alice climbs through a mirror and is transported back to Underland. Her old friends have been waiting for her to fix another problem: The Mad Hatter.
The nightmarish Hatter, who has developed a more pronounced lisp, is wallowing in life-threatening depression because he's found an object that makes him believe his family is alive.
This was not something that seemed to afflict Hatter in the first film, but maybe he's just really good at compartmentalizing.