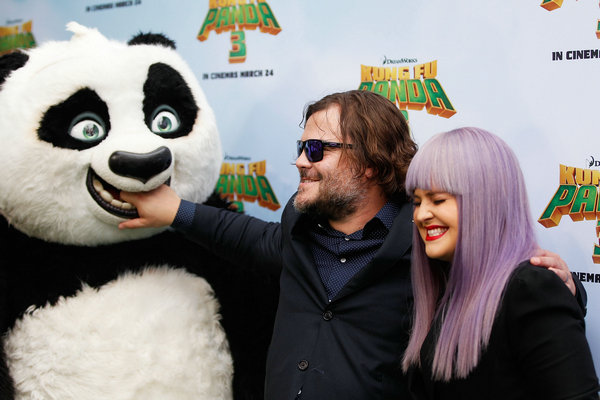 Kelly Osbourne and Jack Black arrive for the Australian premiere of Kung Fu Panda 3 at Hoyts Cinemas in Sydney on March 13.[Photo provided to China Daily]
The Dalian Wanda Group-the new owner of Hoyts, Australia's second-largest cinema chain-aims to improve the viewing experiences of movie fans in Oz. Xu Fan reports. Xu Fan
With cinema renovations and screenings of Chinese-language movies, China's largest cinema operator, Wanda, seems to be influencing how Australians watch movies.
Dalian Wanda Group, which was initially a property developer, has not hidden its ambitions to become a global entertainment powerhouse. In 2012, it bought the cinema chain AMC Entertainment in the United States. It bought Hoyts, Australia's second-largest cinema chain, a year ago.
While box-office returns rose 14 percent in Australia last year, a mere handful of cinemas are built in the country every year, says Damian Keogh, the chief executive of Hoyts. In that light, making what exists more comfortable and improving visual and sound systems seems like a sensible way of coaxing more people to the movies.
Hoyts says it expects that more than 35 percent of its 450 or so screens and 50 cinemas will be renovated this year. In the refurbished cinemas viewers can recline on their seats and are given much more room to stretch their legs.
According to some estimates those luxuries can take up to twice as much space as previous furnishings.
Ticket sales have risen, but Vincent Lloyd, the chief financial officer and chief operating officer of Hoyts, says "it is still too early to see what the overall lift will be.
"Hoyts is doing the renovations to improve the customer experience ... so far it has not changed the ticket prices at most of the renovated sites."
About 1 million of Australia's population of 24 million are either Chinese immigrants or of Chinese ancestry, and those who want to watch entertainment in their native language seem to be increasingly accommodated for.
When the Sino-US animated film Kung Fu Panda 3 was released in Australia in March, its Mandarin version-and not simply a dubbed version-was screened in Hoyts' cinemas.