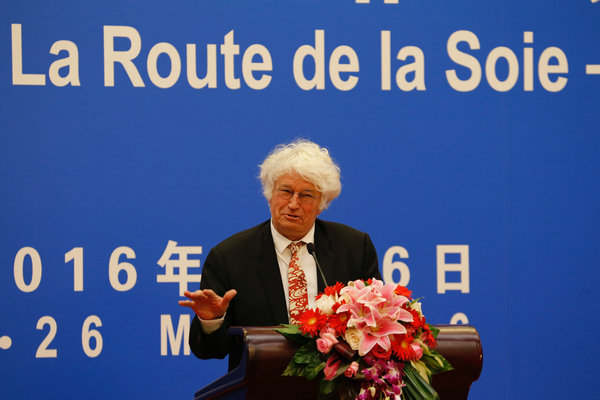 Jean Jacques Annaud delivers a keynote speech at the opening of the first Sino-French Cultural Forum at the Great Hall of the People in Beijing. [Photo provided to chinadaily.com.cn]
"I have been dreaming of coming to China for my entire life," said French director Jean Jacques Annaud on Thursday.
During his keynote speech given at the First Sino-French Cultural Forum held in the Great Hall of the People in Beijing, the director said his love for China was not a grown-up experience, but a passion rooted from his early childhood years.
"Out of the 20 available books at my home, there's the big blue-cover book with a golden 'China' printed on it. My parents allowed me to read it and they would tell me to read it 'carefully'– not to tear up the pages."
Annaud said that the book traveled him from the little Southern France town where he grew up all the way to China.
As a teen, he bought a set of traditional ancient Chinese music CDs with money he saved.
"It was altogether 35 CDs, I have kept them until now and they are well-preserved at my Paris workshop, where you can see the Louvre from the window."
Known by Chinese movie fans for his movie The Lover, an adaptation from Maguerite Duras' novel of the same name, and the recently Wolf Totem, a Sino-French production that won him many awards, the director said he can't help to say that the best time he had was in China.